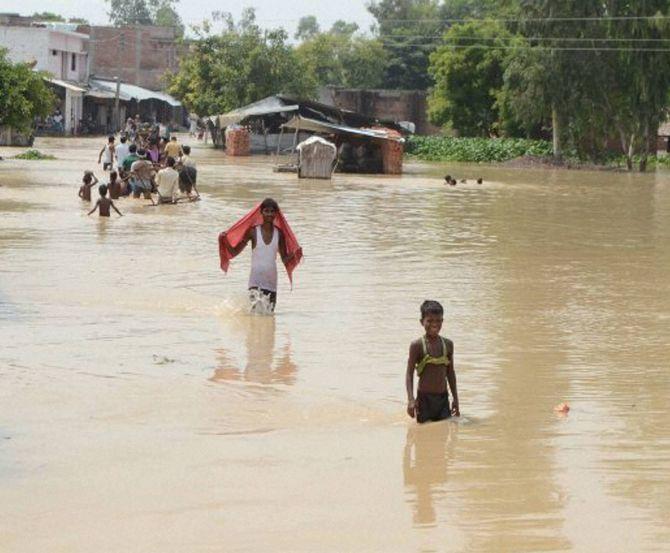 Around 1,500 villages across Uttar Pradesh are struggling to stay afloat after flood fury hit them hard due to the release of overflowing water from dams in Nepal last Sunday.
The death toll rose to 90 on Thursday afternoon even as water levels receded in some parts of the state. However, residents of the Bahraich, Shravasti, Lakhimpur-Kheri, Gonda, Balrampur, Azamgarh, Siddharth Nagar, Sitapur, Faizabad and Barabanki are still struggling as normal life has been disrupted by the floods.
Ironically, these areas, which are fighting to stay afloat, were facing a drought –like situation five days before they were inundated with the water from the dams in Nepal.
"Gushing waters have engulfed parts of Azamgarh district, compelling thousands of people to leave their homes and seek shelter in safer places", state relief commissioner KS Atoria said. "Since there has been utterly deficient rain during the current monsoon, we hope water will recede from all flood affected areas shortly", he added.
Atoria was on a visit to Azamgarh, which happens to be the parliamentary constituency of the ruling Samajwadi Party chief Mulayam Singh Yadav.
The floods have also disrupted traffic movement, damaging roads and electricity networks in nearly all affected areas. Additionally, water supply has also been affected and food has become a luxury for many in the Samajwadi Party chief's constituency.
Furthermore, the state government's claims about ensuring supply of food to those affected by the floods fell flat, as roads were also submerged, making transportation difficult.
Meanwhile, UP's top officials insisted that three helicopters requisitioned by the state government from the Indian Army were air-dropping food packets to all marooned villages. "We are taking stock of the situation and officials have been warned not remain lax about the relief work," said the relief commissioner.
He added that the state Provincial Armed Constabulary, Seema Suraksha Bal and experts from the National Disaster Relief Force, who have three army helicopters at their disposal, are jointly carrying out the operations.
The municipal and health machinery had also been put on alert to handle any crises arising on account of the filth and squalor that prevails as a consequence of cattle carcasses and other feacal matter that is usually left behind by the receding waters, he further explained.
The official machinery was apprehensive of outbreak of disease, which is usually associated with the post-flood situations. "As the water is receding from many affected areas, we are taking appropriate measures to clear dead bodies of cattle, and to ensure proper sanitation to prevent outbreak of infectious diseases," said Satyendra Singh, district magistrate of Bahraich, the worst affected district.
Image: People wade through a flooded road in Barabanki, Uttar Pradesh. Photograph: PTI