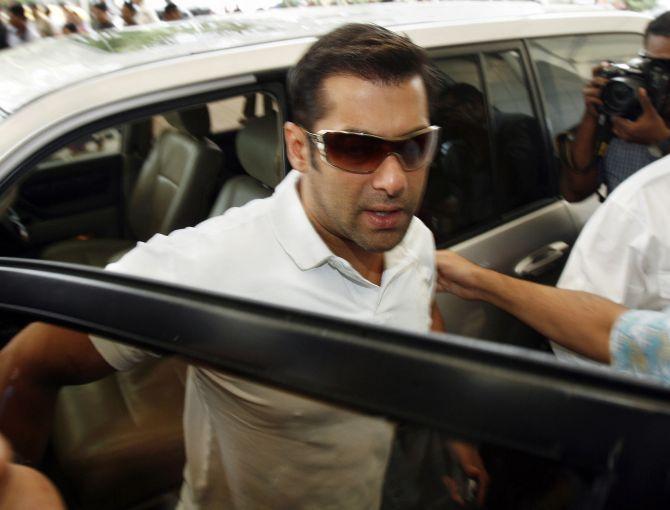 During sentencing the judge asked Salman, "What do you have to say? Maximum sentence of 10 years?"
Salman said, "You are the judge; whatever you say is correct."
Sonil Dedhia/Rediff.com on the courtroom drama that resulted in actor Salman Khan being convicted in a 2002 hit and run case.
May 6 was judgement day after 13 years in the Salman Khan hit and run case.
Salman had run over sleeping pavement dwellers in the Mumbai suburb of Bandra killing Nuru Behra and injuring four others on September 28, 2002.
A tight security blanket was seen around the city civil and sessions court located near Bombay University in South Mumbai. As I was entering the premises, I saw a Salman Khan look alike surrounded by the media persons asking him what he had to say about the verdict, 'Upar khuda hai aur neeche Salman bhai. Unhone itne ache kaam kiye hai, sabki dua unke saath hai. unko kuch nahi ho sakta. (Salman is like God, He has done some many good things, nothing can happen to him).
On the other side of the street, members of a Tamil outfit were protesting seeking strict punishment for Salman in the hit-and-run case. They were angered because of his association with former Sri Lankan President Mahinda Rajapaksa for whom the actor had recently campaigned during the nation's presidential elections.
The court complex contains around three dozen courts but no press room. However on Wednesday, every person was interested only in one room -- Room No 52. Located on the third floor, the room was already buzzing with journalists, lawyers and few police officers an hour before the verdict was to be delivered.
Every journalist wanted to outdo each other by breaking the news first. Unfortunately for them, there was no mobile network in the court room. Some of them in desperation ran with their mobile phones towards the windows in the hope of getting a connection.
Some were lucky and some were not. Those who were not, rushed outside to give live feeds to their respective media houses.
Salman's brothers Sohail and Arbaaz along with brother-in-law Atul Agnihotri and former Congress MLA Baba Siddique were already seated in the second row. Later Salman's two sisters Alvira and Arpita were seen arriving with actor Nikhil Dwivedi.
While Arbaaz was sitting confidently, chatting with his brother-in-law, Sohail didn't utter a word. The dejected look on the face of Salman's youngest brother was a clear indication that he believed his beloved bhai was going to be convicted.
At around 10.40 am, Salman arrived wearing a white shirt and denims and waited patiently outside the courtroom along with his bodyguard Shera.
Exactly at 11.15 am judge D W Deshpande entered the court and instructed Salman to stand in the witness box.
Even before the journalists could capture Salman's emotion and send an update, Judge Deshpande began reading out the judgement and convicted the actor on all charges including culpable homicide not amounting to murder.
Salman listened to the verdict with his head down as the faces of every member of the Khan family in the courtroom look dejected. Surely his fate was sealed but the big question was the quantum of punishment. Immediately after the verdict Sohail Khan left the room.
As soon as the verdict was announced there was complete chaos outside Room 52 as fans tried to break the police cordon and enter the premises. But they we stopped.
In his defence Salman's lawyer Shrikant Shivade asked the judge to look into Alistair Pereira case (In which the 21-year-old mowed down and killed seven people under the influence of alcohol in 2006), "Pereira was given three-years imprisonment so I don't think there should be no punishment beyond three years," argued Shivade.
In the other argument, Salman lawyer's spoke about the actor's Being Human initiative and the fact that he sponsored heart surgeries of 600 children and has also donated Rs 42 crore in various causes.
If his tone was any indication, Salman's lawyer, Shivade, too seemed to believe that luck had deserted his celebrity client. His voice was barely audible as he made his arguments and he fumbled many times.
Salman stood in the witness box wiping sweat from his forehead hearing his lawyer speak in his defence.
Another point which was brought out in Salman's defence was a medical report that he was undergoing treatment for trigeminal neuralgia and he would have to undergo another MRI in the near future. The defence arguments lasted for more than an hour.
After his arguments which lasted for more than hour, Pradeep Gharat, prosecution lawyer stood up and said, "Vehicles today have become death trap. When we see young boys driving fast in crowded places, they should be taught a lesson as it can cause death. This case should be made as an example so that no one in the future commits such a crime."
Gharat also argued that Salman's charity should not be taken into consideration.
At 12.30 pm, the judge looked towards the wall clock. The judgement, he said, would be pronounced at 1.10 pm, after lunch.
As soon as the judge left the room, the electricity went off. Everybody was sweating and trying to reach the two windows in the room to get some fresh air.
Salman Khan was chatting with his sisters and Baba Siddique. Arbaaz and Atul were being fanned by an assistant with a notebook. A chilled water bottle also arrived for them.
The judge arrived at 1.30 pm. He asked Salman, "What do you have to say? Maximum sentence of 10 years?" Salman said, "You are the judge; whatever you say is correct."
The judge immediately announced loud and clear, "Five years."
When that verdict was announced, you could have heard a pin drop in that tiny, stuffy, overcrowded room.
Salman Khan, the star who could take on anyone and anything on-screen, looked stunned as if he could not comprehend this real life twist.
Only Judge Deshpande remained unperturbed, as he calmly continued to read out his conclusions.
Also read:
No lights, fans but plenty of action as Salman Khan is sentenced