India will have to wait for some more time to gain membership of the Nuclear Suppliers Group as the 26th plenary meeting of the elite grouping in Seoul, South Korea concluded on Friday without any discussion on its bid.
Even as allegations and counter-allegations fly thick and fast, and Prime Minister Narendra Modi prepares his defence on why despite his personal charm and trips to NSG member nations he couldn't muster enough support to get India a seat on NSG's high table, the million-dollar question being asked is 'What's the big deal about an NSG membership."
Rediff.com gives you a lowdown on why NSG membership important for India? Scroll down to read: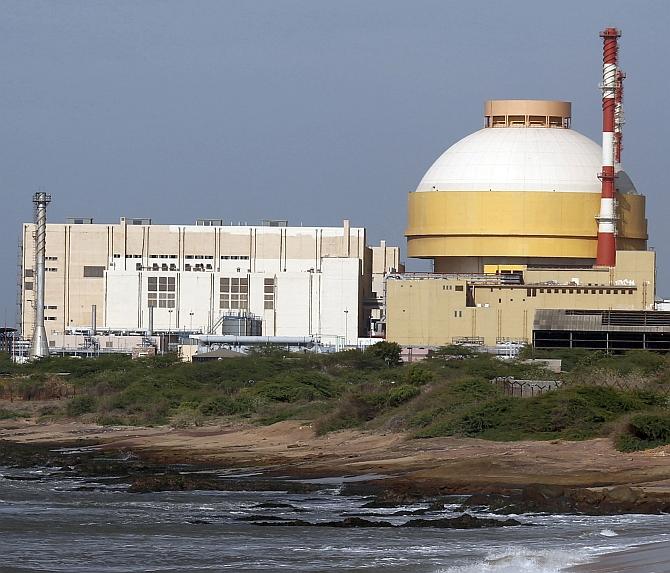 * The Nuclear Suppliers Group is in a sense a traders' cartel. Even though India can indegenously work on its nuclear programme, it needs access to state-of-the-art technology to compete with global leaders (NSG member states). NSG membership helps India to be part of the global commons.
* China has been hammering home the point that India's refusal to sign the (Nuclear) Non-Proliferation Treaty has been blocking its entry into the 48-member elite grouping. However, New Delhi's reluctance stems from the fact that signing the NPT would hinder its development of a nuclear arsenal. That situation is unlikely to change in future.
* India plans to have nearly 15,000 MWe of nuclear capacity on line by 2020. In 2008, the United States gave a waiver to India allowing it to import nuclear power plants and uranium fuel and to put itself more fully under the international safeguards regime without having to abandon its nuclear weapons. However, there are more advanced technologies in operation with other NSG members. And India -- as China advised it to do after the NSG's Seoul plenary -- will have to think 'out the box' to get access.
* Joining the NSG would trigger manufacturing and innovation in India through which it stands to gain economic and strategic leverage over its neighbours. That India knows how to build reactors is no secret, but given the fact that neighbouring Bangladesh is trying to get access to Russian reactors and New Delhi's existing nuclear cooperation agreement with Sri Lanka, an NSG membership would enable it to offer low cost 'Made in India' reactors to them.
* This one's a long shot. For a new nation to enter the NSG, all 48 members have to give a consent. India being a member would effectively negate Pakistan's chances of entering the grouping. May be that's why Beijing had been insisting on NSG members looking at Pakistan's case for membership. But given Pakistan's chequered nuclear proliferation record, India won't be the only country rejecting Islamabad's bid.