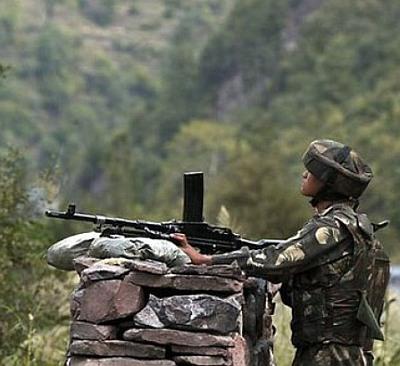 In one of the worst ceasefire violations by Pakistan, 5 villagers were killed and 34 injured on Monday in heavy mortar shelling and firing from across the international border and Line of Control in Jammu and Poonch sectors, triggering strong condemnation by India.
Pakistani troops indulged in heavy and unprovoked firing and shelling of mortars on 10 border outposts and civilian areas along international border in Arnia belt of Jammu district from 10 PM spilling over to this morning, a BSF spokesman said.
BSF troops retaliated effectively and gave a befitting reply, he said, adding that the intermittent firing exchanges were on in the area when reports last came in.
In the shelling, five villagers were killed and 34 injured in several hamlets, SSP, Jammu, Uttam Chand told PTI.
In New Delhi, Defence Minister Arun Jaitley deplored the ceasefire violations from across the border and said the Indian armed forces were "fully ready" and are responding to each of these provocations from across the border.
Home Minister Rajnath Singh said, "Pakistan should stop ceasefire violations now and understand the reality that times have changed in India."
J-K Chief Minister Omar Abdullah strongly condemned the shelling on civilians, saying targeting them exposed the frustration of the Pakistani government after its failure to gain international attention on the Kashmir issue.
"They (the Pakistani leadership) have nothing else to speak, but only Kashmir. Whenever they go abroad, they try to raise only Kashmir issue, but every time they miserably fail to get international attention. The cross-border shelling is an indication of their frustration," he told reporters after meeting civilians injured in the shelling at the Government Medical College Hospital.
A PTI correspondent who visited some of the affected areas hit by the shelling saw blood stained beds, torn off roof-tops and windows punctured by bullets besides splinters of mortar bombs lying scattered around.
There were some reports of people moving out of the affected areas, fearing fresh attacks.
The Pakistani troops also resorted to mortar shelling and firing on forward posts along LoC in Bhimber Gali belt of Poonch district since 0830 hours today, a Defence spokesman said.
The Pakistani troops used small, automatic weapons and mortar bombs to target the border hamlets and BoPs.
29 of the injured have been shifted to GMC hospital Jammu. Three others were brought dead, chief medical officer of the hospital Dr Ritesh Shan said.
"We have always been the sitting ducks on fire. The Pakistani side always attack the civilians in the area and we become the worst sufferers," said 70-year-old Bira Devi.
A large number of houses were damaged and livestock perished in the firing and shelling, said Devender Singh, who was leading a team that shifted the injured people to hospital during the heavy shelling.
"People living in critical zones along the border will be evacuated," he said.
The BSF spokesman said that the force did not suffer any casualty.
Congress and BJP said the ceasefire violations by Pakistan were a "serious" issue and it should desist from such activities.
"Whatever Pakistan is doing is certainly a serious matter. And we want to tell Pakistan that indulging in such activities is not good for that country," BJP leader Mukhtar Abbas Naqvi said.
Condemning Pakistan's actions, former External Affairs Minister Salman Khurshid said it is despicable that such incidents have occurred on Eid. "There cannot be anything worse than this," the Congress leader said.
Party leader and former Jammu and Kashmir Chief Minister Ghulam Nabi Azad, however, asked why Modi government was "keeping silent".
"It's most unfortunate that firing is going on from Pakistan side in Jammu and Kashmir and at this juncture any firing from across the border is very critical. It's most unfortunate that the Government is also keeping silent," he said.
There have been a dozen ceasefire violations along Indo-Pak border in Jammu and Kashmir during the last 4 days.
On Sunday, Pakistani troops violated ceasefire by unprovoked and heavy firing on Indian forward posts along LoC in Balnoie sub-sector of Poonch district.
On October 4, Pakistani troops resorted to firing and mortar shelling along LoC in Poonch district, drawing retaliation from Army.
On October 3, Pakistani troops and rangers violated ceasefire in Gulmarg sector of Kashmir Valley and in Poonch in which a girl was killed and six persons injured.
On October 1 and 2, Pakistani troops violated ceasefire 2 times along LoC in Poonch district resulting in injuries to 6 people, including three women.
With inputs from PTI