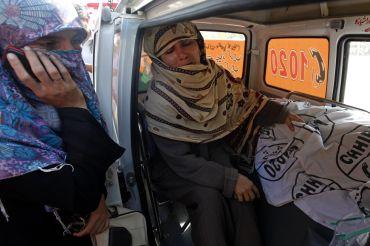 Five female health workers administering polio vaccines to children, including a 14-year-old girl, were killed in attacks by unidentified gunmen in the Pakistani cities of Karachi and Peshawar on Tuesday prompting authorities to suspend their anti-polio campaign.
Another male volunteer engaged in WHO's anti-polio campaign was shot and killed in Karachi on Monday night, taking the number of anti-polio workers killed since yesterday to six.
Sagheer Ahmed, the health minister of Sindh province, told reporters that four women workers were killed in three separate attacks on polio vaccinators in Baldia, Landhi and Orangi Town areas of Karachi this morning.
Police officials had earlier said that three women and a man were killed in these attacks.
Officials said two male polio vaccinators were injured in the attacks.
The shootings occurred within the span of half an hour.
In Khyber-Pakhtunkhwa capital Peshawar, gunmen targeted a group of anti-polio workers and injured a girl, who later succumbed to her injuries.
Officials said the girl, identified only as Farzana, was 14 years old.
No group claimed responsibility for the attacks though the banned Pakistani Taliban has opposed the anti-polio campaign in the past, saying the vaccines are aimed at "sterilising" children.
The Taliban have also accused workers involved in anti-polio drives in the northwest of spying for the United States.
Provincial Health Minister Ahmed said he had ordered the immediate halting of the polio vaccination campaign in Sindh following the attacks.
He strongly condemned the attacks on polio workers and described them as a conspiracy against efforts to make Sindh "polio free".
The WHO too suspended its anti-polio drive in Karachi.
Officials said they were assessing the situation across the country to decide on continuing the campaign in other areas.
The development marked a major setback for Pakistan's efforts to eradicate polio.
Today's attacks in Karachi were carried out in areas with a sizeable Pashtun population.
A large number of Pashtuns have migrated to Karachi following unrest in northwest Pakistan.
Recent reports have said that a large number of Taliban militants had entered the port city of 18 million people along with the migrants.
Anti-polio workers of the WHO have been attacked several times in Karachi in recent months.
Recently, a UN doctor from Ghana working for the anti-polio campaign and his driver were shot and injured in Karachi.
Pakistan, Afghanistan and Nigeria are the only countries where the virus remains endemic.
Image: Rukhsana Bibi cries while sitting next to the body of her daughter Madiha, a anti-polio campaigner who got killed, in Karachi
Photograph: Akhtar Soomro/Reuters
© Copyright 2021 PTI. All rights reserved. Republication or redistribution of PTI content, including by framing or similar means, is expressly prohibited without the prior written consent.