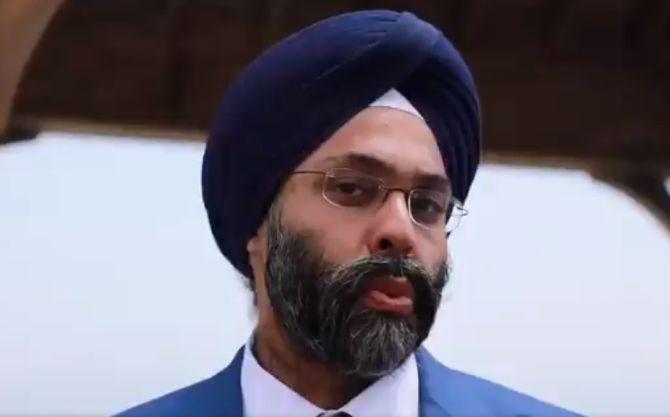 America's first Sikh-American Attorney General Gurbir Grewal has been racially targeted by two radio hosts who repeatedly called him the 'turban man' on air, drawing severe criticism from politicians and netizens over their 'xenophobic and racist' comments.
Dennis Malloy and Judi Franco, who host the 'Dennis and Judi Show' on the radio show NJ 101.5FM, were talking about Grewal's decision to suspend marjiuana prosecutions in New Jersey when they began calling him the 'turban man'.
"You know the attorney general guy? I'm never going to know his name, I'm just gonna say the guy with the turban," Malloy said.
"Turban man!" Franco repeated in a sing-song tone. "If it offends you, then don't wear the turban, man, and I'll remember your name," Malloy said, as both the hosts laughed.
"But Turban Man -- is that highly offensive?"
"To me? No. To people who wear turbans, could be," said Franco.
"Could be. But if you called me Baseball Hat Man and I was in a culture where no one wears baseball hats, should I be offended?" Malloy said.
"Uh, no. I would say no," Franco replied.
"So, anyway. The attorney general -- Turban Man -- says he's not going to prosecute pot things until September," Malloy said, laughing during the conversation.
Grewal, 44, however, retorted sharply and said he is the 61st Attorney General of New Jersey.
'I'm a Sikh American. I have 3 daughters. And yesterday, I told them to turn off the radio,' he tweeted.
'This is not the first indignity I've faced and it probably won't be the last. Sometimes, I endure it alone. Yesterday, all of New Jersey heard it. It's time to end small-minded intolerance,' Grewal tweeted from his personal twitter account.
He also posted a link to an address he gave in May at the Asian Pacific American Institute for Congressional Studies conference, where he talked about issues of hate and intolerance.
In his speech, he had said that comments targeting him on social media have been "stomach-turning" as he shared with the audience that he has been called racist words like 'towel-head' and 'terrorist'.
He recalled the day he was nominated to become the 61st Attorney General of New Jersey, a commentator had asked where will Grewal 'park' his 'elephant'.
New Jersey Governor Phil Murphy, who had appointed Grewal to his post, strongly condemned the language of the radio hosts, demanding action by the station.
'Outraged by the abhorrent and xenophobic comments mocking @NewJerseyOAG on The @DennisandJudi Show on @nj1015. Hate speech has no place in NJ, and does not belong on our airwaves. Station management must hold the hosts accountable for these intolerant and racist comments,' Murphy tweeted.
The radio station later tweeted that it is aware of the 'offensive comments' made by Malloy and Franco during the broadcast.
'We have taken immediate action and have taken them off the air until further notice. We are investigating the matter and will have further comment shortly,' it said in the tweet.
Hoboken Mayor Ravi Bhalla, also a Sikh-American who wears the turban, tweeted, 'Hey 'Racist Man' @DennisandJudi : I'm a Jersey guy, born & raised, and so is NewJerseyOAG Grewal - this type of racist garbage has no place in Jersey. Get with the program! #RacistManDennis #jerseypride #educateyourself.'
Bhalla also thanked Murphy for 'standing up and speaking out' in support of Grewal.
Grewal, who was previously Bergen County Prosecutor, became the nation's first Sikh state attorney general after the state Senate approved his nomination this year. Grewal is born to Indian immigrant parents in Jersey City and was raised in the state's Hudson and Bergen counties.
The clip quickly garnered attention on Twitter and civil rights advocacy group ACLU of New Jersey tweeted a link with an audio pronunciation of Grewal's name, saying, 'Turban man? Is that offensive?' Yep. (If you have to ask...). Racism isn't cute. It's just racist.'
Twitter users too slammed the racist remarks saying there is no place for such language. Amardeep Singh, ACLU NJ Board Member and co-founder of rights group Sikh Coalition tweeted 'let's go after the advertisers of the show as well'.
City of Hoboken's Deputy Chief of Staff Jason Freeman tweeted that racism has no place in the 'New Jersey that we live in'.
"No person should ever be judged by their Turban, Kippah, Cross, Hijab, or anything else that represents their faith. @DennisandJudi needs a lesson in the kind of NJ that we all want to live in," he added.