The first phase of assembly polls in West Bengal and Assam on Monday passed off peacefully, with a high voter turnout of 81 and 80 per cent respectively in the two states.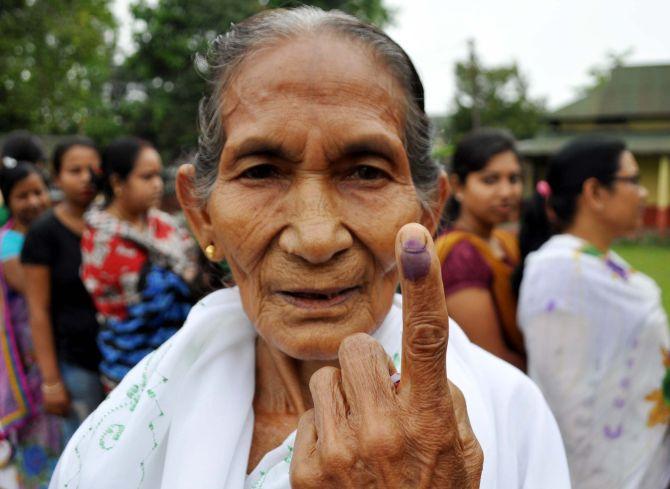 IMAGE: An elderly woman show off their finger after casting her vote in Assam.
Voting in 18 of the 294 assembly constituencies in West Bengal and 65 of the 126 seats in Assam was "by and large peaceful" with no reports of violence-related death or injury, Deputy Election Commissioner Sandeep Saxena told reporters in Delhi.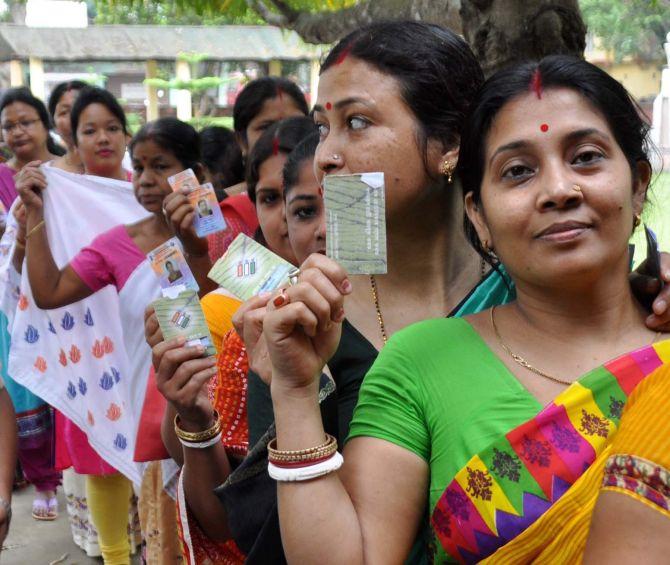 IMAGE: Womenfolk show off their voter ids before casting their vote in Assam.
Responding to questions, he said a total of 16 complaints related to rigging, denial of vote and late start of polling were received.
Polling in the two states was held amid tight security, including large-scale presence of central para-military forces and aerial surveillance by helicopter-borne personnel in West Bengal.
In West Bengal, where Mamata Banerjee's Trinamool Congress is making a determined bid for a second successive term, heavy voter turnout was recorded with an estimated 81 per cent of 40.09 lakh electors casting their ballots. Most of these constituencies are in areas where Maoists held sway before the TMC came to power and neutralised them.
IMAGE: Women from a village in Assam proudly show off their fingers after having voted.
In 13 seats of tribal Jangalmahal area earlier affected by Maoist violence, polling concluded at 4 pm as scheduled due to security considerations.
In the remaining five seats of Purulia, Manbazar, Kashipur, Para and Raghunathpur it went on till 6 pm.
Banerjee's TMC, which contested the last assembly polls in alliance with the Congress, is pitted this time against foe-turned-friends Congress-Left combine, besides the Bharatiya Janata Party, which is seeking to make inroads into the politically volatile eastern state.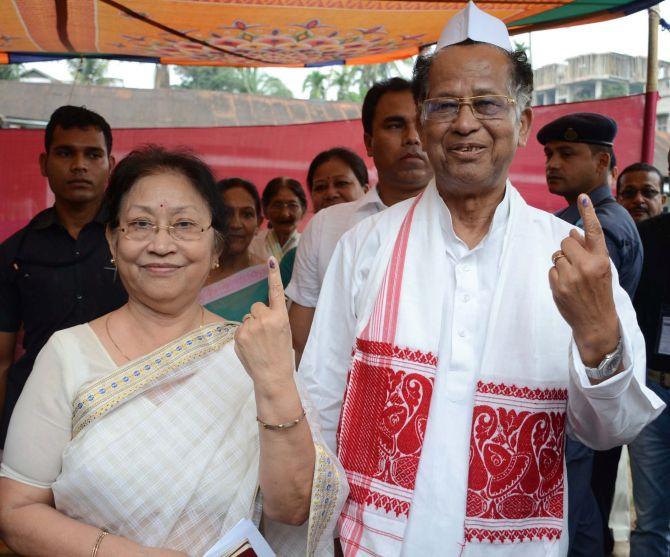 IMAGE: Assam CM Tarun Gogoi and his wife are all smiles after casting their vote.
In Assam, where Congress under Tarun Gogoi is seeking a fourth straight term, the voter turnout was nearly 80 per cent. There were no reports of violence from any of the 65 of the 126 constituencies where polling was held in the first phase.
"As per reports received till 5 pm, 78.45 per cent of voting had taken place. However, as a large number of voters were standing in queue at 5 pm, the final polling percentage is likely to by over 80 per cent," the election department said in a statement.
Seeking to capitalise on anti-incumbency factor and a host of contentious issues, including the divisive debate on "nationalism", BJP has tied up with former chief minister Prafulla Mahanta's AGP and Bodo People's Front in its bid to dislodge the Congress from power in the northeastern state.
IMAGE: Villagers show off their cards before casting their vote in Assam.
Illegal Bangladeshi infiltration is a major electoral and social issue in Assam and the party had sought to exploit it to the hilt during electioneering.
The fate of several prominent Congress candidates, including Chief Minister Tarun Gogoi from Titabor and Speaker of the outgoing Assembly Pranab Gogoi from Sibsagar will be decided in the first phase.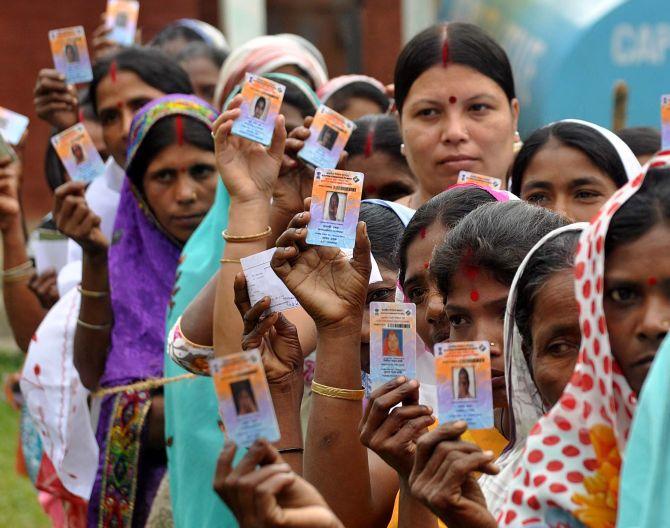 IMAGE: Women show off their voter ids in Assam.
Among others whose constituencies went to poll on Monday include the BJP's chief ministerial candidate Union Minister Sarbananda Sonowal from Majuli and the party's Lok Sabha member from Jorhat Kamakhya Prasad Tasa, who is crossing swords with Tarun Gogoi in Titabor.
All India United Democratic Front of Dhubri MP Badruddin Ajmal, which has emerged as a force to reckon with in the state is the last several years, with the backing of Bangladeshi migrants, has also fielded candidates in 27 of the 65 constituencies.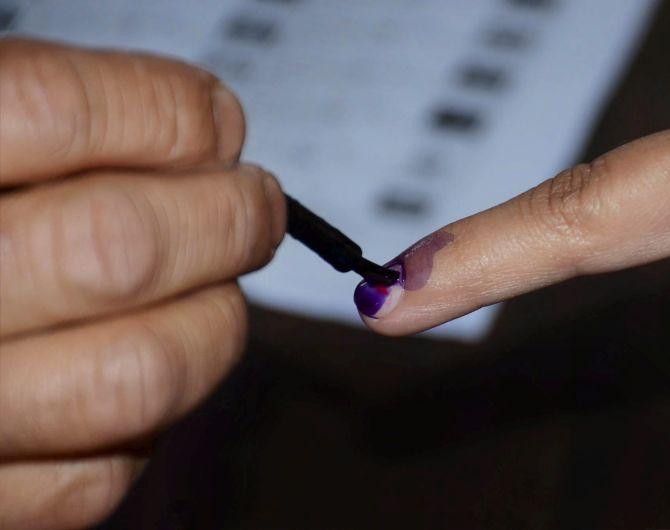 IMAGE: Voter gets his finger inked at a ballot counter in West Bengal. Photograph: PTI
The Congress is contesting all 65 seats in the first phase, the BJP 54, its alliance partners the Asom Gana Parishad 11 and the Bodoland People's Front three.
The Communist Party of India and the Communist Party of India-Marxist have put up candidates in 10 seats each and the Communist Party of India-Marxist Leninist-Liberation in six.
Ruling parties and the opposition in the two states voiced confidence about their victory in the polls.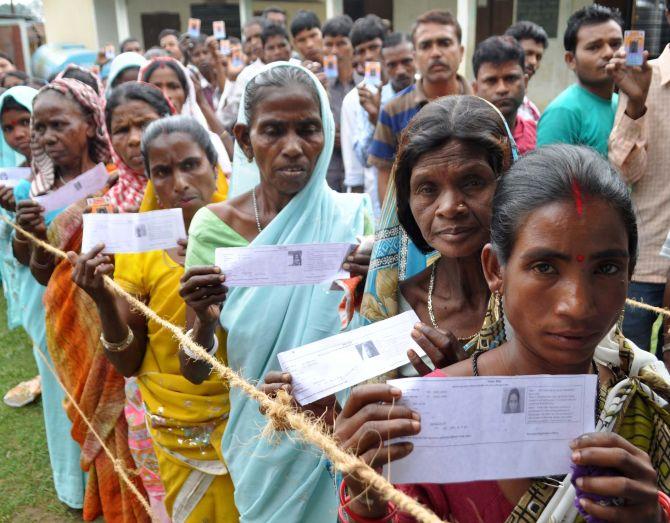 IMAGE: Women in Assam get ready to cast their vote.
West Bengal's ruling TMC expressed satisfaction over the huge turnout and said it was indicative of the 'silent revolution' that Chief Minister Mamata Banerjee had ushered in the state through development.
"The huge turnout in the first part of the first phase proves the silent revolution that Mamata Banerjee has brought in through massive developmental work in the junglemahal in the last five years," state pancahayat minister Subrata Mukherjee said.
The Left front too voiced satisfaction over the voting, saying election was "more or less free and fair".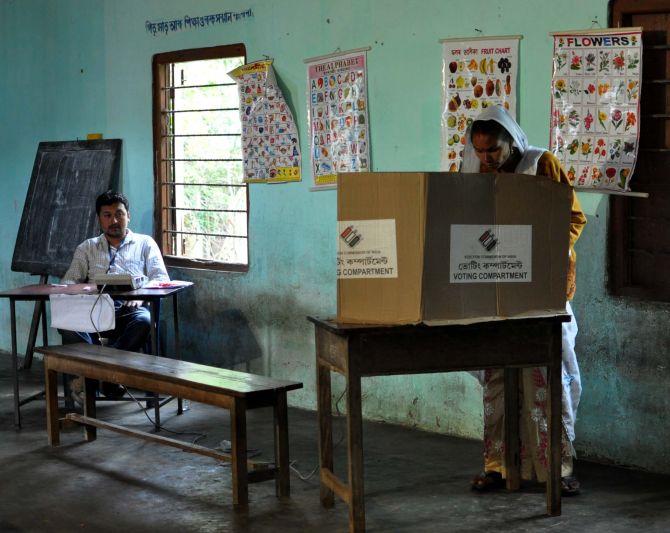 IMAGE: A village woman casts her vote in the Assam assembly elections.
Leader of Opposition and CPI-M state secretary Surya Kanta Mishra in a tweet said the people have given a clear message about ousting the TMC from power.
"The people have given a clear message today's first phase of d Polls -- Ousting of d TMC from power is inevitable!!! #PeoplesPower," Mishra tweeted.
In Guwahati, Gogoi voiced confidence that the people would re-elect a Congress government.
"We are 100 per cent confident that people will vote for us. We brought change, we proved it and people can see it. I also want change. Who wants to remain static? We (Congress) achieved change for the better, while AGP also achieved change but for the worse.
IMAGE: An elderly woman presents her voter id as she readies to cast her vote.
"Everyone knows what was the situation (15 years ago) when AGP was in power when they failed.... There was no development then, no employment," Gogoi said as voting was in progress.
BJP's chief ministerial candidate Sarbananda Sonowal said in Majuli, his constituency, that people were voting in the Assam Assembly elections for change.
"People want change for a free, clean and efficient government. They want an administration that protects their culture too," he said.
Want to know which constituency in West Bengal goes to polls when? Check out the map below