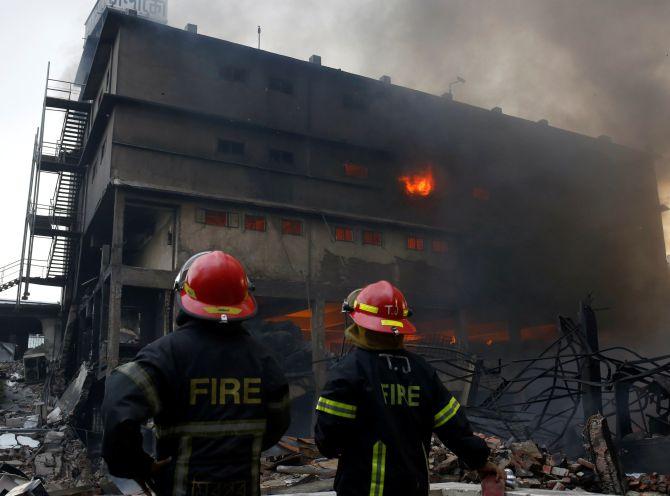 With the recovery of more bodies, the death toll in a fire tragedy at a food and cigarette packaging factory in Bangladesh on Monday climbed to 33, while authorities called in the army to join the combing operation at the still-smouldering accident site.
Four more bodies were pulled out of the rubble of the four-storey Tampaco Foils Ltd factory in Tongi, just north of capital Dhaka, Gazipur district authorities said.
Fire at the factory was still not doused completely more than 48 hours after the tragedy struck ahead of Eid festival.
There were about 100 people inside the factory when the explosion occurred on Saturday, and most of them were to leave for a week-long holiday for the festival.
Twenty two teams of firefighters and army were engaged in search and rescue operations.
The death toll on Saturday stood at 25 and four bodies were retrieved on Sunday. Around 70 people were also injured.
The latest victims were yet to be identified.
The fire was initially thought to have been triggered by a powerful boiler explosion but officials later said they have found the factory tank intact fuelling speculation that a gas leak could be the reason behind the blast.
The father of one of the victims filed a case against the factory's owner and six others last night. Owner Mokbul Hossain has been named the prime accused, bdnews.com quoted officer-in-charge of Tongi Police Station Firoz Talukder as saying.
Some people were still believed to have been trapped under the debris of the partially collapsed structure, but there's little hope that they could be found alive, officials said.
The Dhaka Medical College and Hospital conducted autopsy on 25 bodies and handed them over to the relatives.
"More than half of them died due to impact of the explosion while others were burnt to death," said DMCH Forensic Department's Assistant Professor Md Sohel Mahmud.
The labour ministry has announced Tk 200,000 (Rs 1.7 lakh) assistance to the families of those dead in the tragedy.
The blaze was the latest in a series of industrial accidents in Bangladesh, where low-cost manufacturing is the mainstay for millions of people.
At least 13 people died in a fire accident at a plastic factory in Dhaka last year. In 2012, 112 workers died in another such mishap at a factory just outside the capital.
The country suffered an even greater tragedy in 2013 when the Rana Plaza garment complex collapsed on the outskirts of Dhaka, killing 1,135 people.
Image: Firefighters stand at the site of a fire at a packaging factory outside Dhaka, Bangladesh. Photograph: Mohammad Ponir Hossain/Reuters