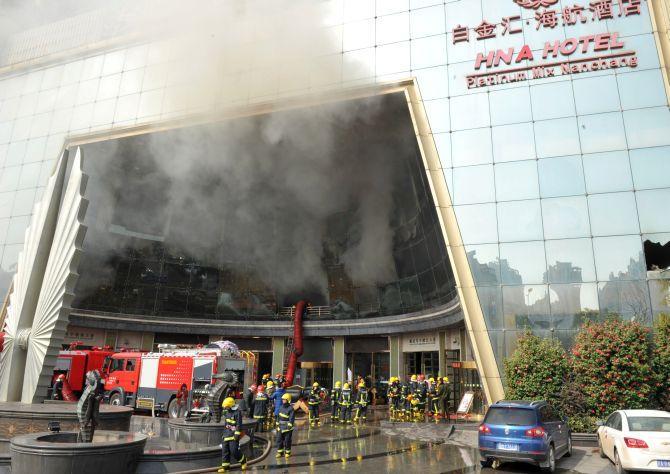 At least 10 persons were killed and 14 others injured on Saturday when a major fire broke out at a multi-storey luxurious hotel in Nanchang, capital of China's eastern Jiangxi Province.
Firefighters found seven bodies in debris, and three of the 16 people hospitalised have succumbed to their injuries, state-run Xinhua news agency reported.
The fire broke out on the second floor of the HNA Platinum Mix Hotel in the Honggutan New District on Saturday morning, firefighters said.
Over 10 construction workers were working on a decoration project on the second floor when the fire broke out, a woman who escaped from the scene, said.
The four-storey hotel is connected to a 24-storey apartment building where over 260 residents were evacuated.
Seven people in connection with the case have been taken into police custody.
"Initial investigations found the fire was caused by cutting of decoration materials and further investigation is under way," the report said.
A man who broke the window to jump from the second floor was injured and rushed to a nearby hospital.
Image: Firefighters at the site after a fire broke out at HNA Hotel in Nanchang, Jiangxi province. Photograph: Reuters/Stringer
© Copyright 2023 PTI. All rights reserved. Republication or redistribution of PTI content, including by framing or similar means, is expressly prohibited without the prior written consent.