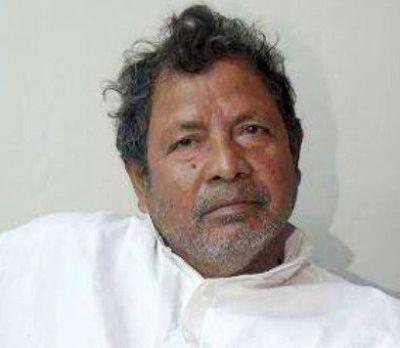 National Democratic Alliance legislators on Thursday continued to disrupt both Houses of the Bihar Legislature protesting against minister Abdul Jalil Mastan for his "uncharitable" remarks against Prime Minister Narendra Modi.
They also met the governor demanding Mastan's ouster from the government and filed an FIR against the Congress leader.
Members of the Bharatiya Janata Party and its allies in the NDA staged a protest in the assembly as well as in the Legislative Council for the second consecutive day, seeking an immediate removal of the minister in the Grand Alliance government, forcing an adjournment of both Houses till 2 pm.
On February 22, Mastan was caught on camera asking a crowd at Amour in Purnea district to hit the photograph of Modi with shoes.
He made the remarks during a protest against the Centre's decision to scrap high-value currency notes.
The video purportedly shows Mastan telling the people to hit the prime minister's photo with shoes. Subsequently, some of the protesters were seen hitting a photo of Modi, kept on the stage, with shoes in Mastan's presence.
The video was telecast by television channels on February 28, triggering a protest by the NDA in and outside the Houses since Wednesday.
An NDA delegation went to Raj Bhawan and submitted a memorandum to Governor Ramnath Kovind, demanding sacking of Mastan from the post of Bihar excise and prohibition minister.
Leader of Opposition in the Legislative Council Sushil Kumar Modi, his assembly counterpart Prem Kumar, ex-chief minister and Hindustani Awam Morcha chief Jitan Ram Manjhi, Rashtriya Lok Samta Party's Lallan Paswan and others were part of the delegation.
"Since Chief Minister Nitish Kumar did not sack Mastan for his gross unconstitutional conduct, we were forced to approach the governor for his removal," Modi told reporters.
Meanwhile, BJP MLA Nitin Navin lodged an FIR against Mastan at the Kotwali police station.
Navin said, in his complaint, he has sought slapping of sedition charges against the minister, his arrest for disturbing communal harmony and also, a probe into his citizenship as he hails from an area bordering Bangladesh.
Kotwali SHO Ram Shankar Singh told PTI that he would forward the FIR to Purnea district where Mastan allegedly made the remarks.
The BJP and NDA made it clear that they would accept nothing less than sacking of the minister, while the ruling Grand Alliance leaders including Chief Minister Nitish Kumar, said the matter is closed after the minister has said sorry.
Bihar Congress president and minister Ashok Choudhary told reporters that first BJP should take resignation from its MP Subramaniam Swamy for making objectionable comments on Congress President Sonia Gandhi in the past.
Deputy Chief minister and Rashtriya Janata Dal Legislature party leader Tejaswi Prasad Yadav pointed towards utterances of Union Minister of State Giriraj Singh against RJD President Lalu Prasad and asked the BJP to give him a marching order first.
Mastan's issue continued to disrupt proceedings in both Houses of state Legislature.
In state Legislative Assembly, Leader of Opposition Prem Kumar raised the demand for sacking of the minister in the beginning of Question Hour.
Speaker Vijay Kumar Chaudhary's repeated appeal to maintain order in the House and give a chance to the minister to speak on the issue did not move BJP and NDA MLAs who trooped into well of the House and raised anti-government slogans.
Some Grand Alliance MLAs rose from their seat to shout down NDA members. Amid din the House was adjourned till 2 pm.
The scene was no better in state Legislative Council, where NDA members led by Sushil Kumar Modi raised Mastan's issue and forced adjournment till 2:30 pm.
Mastan, who is in the eye of storm, was present in Council but was not allowed by the NDA to speak.
Tejaswi Yadav attacked the BJP for refusing to give a chance to the minister to make a statement. Talking to reporters outside assembly, he also sought action against opposition MLAs who overturned reporters table during stir on Wednesday and threw chair.
Parliamentary Affairs minister and Janata Dal-United leader Shrawan Kumar also attacked at the BJP for not allowing the minister to speak.
Sushil Modi told reporters in his Council chamber that its not only a matter of use of "unparliamentary and uncharitable" comments on PM but more than that a heinous act of inciting crowd to hit a photograph of PM kept on stage with shoes.
Questioning the silence of Chief Minister Nitish Kumar on the demand to sack Mastan from Cabinet, Sushil Modi asked why an FIR has not been registered into the incident so far and action taken against Circle Officer and Station House Officer who were present at the place when the protest programme took place in Purnea.