After a decade-long wait, the IAF will transform 80 ageing Jaguar fighters into highly capable, multi-role, combat aircraft, reports Ajai Shukla.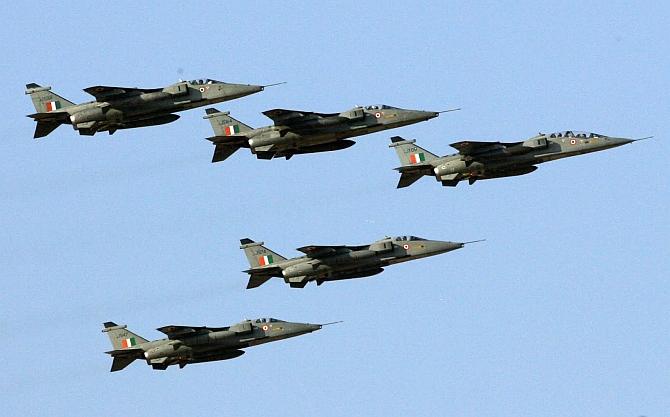 The Indian Air Force, after being criticised for spending $9.2 billion on 36 Rafale fighter aircraft, is closing in on a far more prudent deal -- the rejuvenation of 80 ageing Jaguar fighters into highly capable, multi-role, combat aircraft for a mere $1.5 billion or so.
This long-delayed project, which was resurrected last month, involves replacing the Jaguar's underpowered engines.
Separately, the updated fighter will get state-of-the-art avionics for striking ground targets more accurately, hitting maritime targets far out at sea, and winning aerial dogfights with enemy fighters.
For a decade, the Jaguar upgrade proposal has remained stalled on the issue of cost.
Honeywell was made responsible for 're-engining' the Jaguar, and the United States firm quoted an unacceptable $2.5 billion to $3 billion for taking full responsibility to instal its new F-125IN engines in 80 Jaguars.
Now, breaking that logjam, Hindustan Aeronautics Ltd has been nominated the lead integrator, while Honeywell has stepped back to the more restricted role of engine supplier.
HAL will buy F-125IN engines from Honeywell and install them in the Jaguars, replacing the current Rolls-Royce Adour 811 engines.
HAL chief, T Suvarna Raju, says his company can do the job more easily, and cheaply, than Honeywell, having built more than 145 Jaguars under license over the years.
"Installing the F-125IN requires 10-12 relatively minor modifications. HAL can handle this easily," Raju says.
"The earlier tender stands withdrawn. In its place, HAL will take a quote from Honeywell for its engines and, after adding its own expenses, submit a 'total project cost'. Based on that figure, the defence ministry will sanction the project. The contract will now be between the IAF and HAL," said Raju.
The HAL chief says there will be no time-consuming competitive tendering, since Honeywell is the only vendor.
Rolls-Royce has declined to participate since they do not have an engine that meets the IAF's specifications for the Jaguar.
Honeywell will require 36 months for the F-125IN engines to start rolling off the production line, but HAL wants to go ahead with engine integration, using two engines that Honeywell had built earlier when it was to have the lead role.
Raju says he recently travelled to Honeywell's facility in Phoenix, Arizona, to ensure that they benefit from several years of work they have already done on integrating the F-125IN onto the Jaguar.
"We need to cut down on time and expense, and avoid re-inventing the wheel," he points out.
Besides building two F-125 engines, Honeywell also bought a Jaguar airframe from the United Kingdom.
It remains to be seen whether the US firm will cooperate with HAL for mutual benefit, or demand financial compensation for the work it did earlier.
The first indicator, say defence ministry sources, will be the terms that Honeywell demands for supplying two engines to HAL -- sale, rent, lease or gratis.
Of the 145 Jaguars that HAL built for the IAF, only 119 currently fly, comprising six IAF squadrons of about 20 fighters each.
Since 39 of these would complete their airframe lives by 2025 to 2030, the IAF considers it uneconomical to re-engine these.
That leaves 80 Jaguars, whose service lives would be extended to 2035 to 2040 with new engines.
With each of those fighters requiring two engines, and an additional maintenance reserve of 40 engines, HAL would require 200 F-125IN engines from Honeywell.
Aerospace industry experts estimate a price of $5 million to $6 million per engine, which would place Honeywell's bill at a little over a billion dollars.
The remaining cost would be incurred in integrating the engines onto the fleet.
With engine supply starting only three years from the contract date, substantial numbers of re-engined Jaguars would probably materialise only after five years, around 2024.
IAF pilots joke that the Jaguar's current engines are so underpowered that the fighter only gets airborne because the earth is round -- and its curvature makes the ground drop away beneath the moving aircraft.
With the Rolls-Royce Adour 811 engines output (25 kiloNewtons of dry thrust and 37.5 kN with afterburners) being replaced by the F-125IN (27.7 kN of dry thrust and 43.8kN with afterburners), Jaguar pilots believe they would have the last laugh.