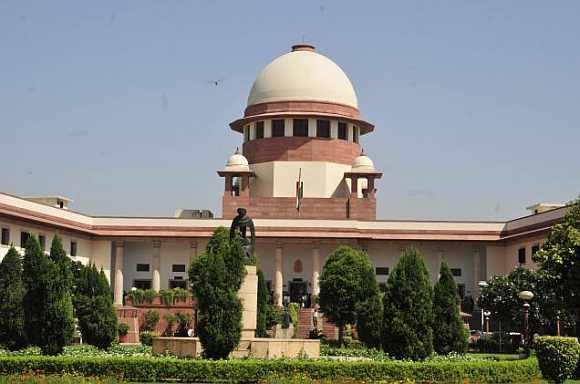 The Supreme Court on Monday asked the centre to file before it the report of a committee which was constituted earlier to look into the aspects of personal laws relating to marriage, divorce and custody prevalent in various religious minorities, including Muslims.
A bench comprising Chief justice T S Thakur and Justice U U Lalit asked Additional Solicitor General Tushar Mehta, appearing for the centre, to submit the report within six weeks in the court.
The bench also asked the ministry of minority affairs to file its response to the petition filed by one Shayara Bano challenging the constitutionality of Muslim practices of polygamy, triple talaq (talaq-e-bidat) and nikah halala.
Talaq-e–bidat is a Muslim man divorcing his wife by pronouncing more than one talaq in a single tuhr (the period between two menstruations), or in a tuhr after coitus, or pronouncing an irrevocable instantaneous divorce at one go (unilateral triple-talaq).
Meanwhile, the bench directed the apex court registry to make available within six weeks the copy of judicial records of a petition on the issue which was taken note of as a separate petition by it.
The Supreme Court had earlier this month sought response of the centre on Bano's plea challenging constitutionality of section 2 of the Muslim Personal Law (Shariat) Application Act, 1937 in so far as it seeks to recognise and validate polygamy, triple talaq and nikah halala, and had tagged the matter with a similar suo motu petition. Bano has said she was subjected to cruelty and dowry demands from her husband and in-laws and was administered drugs that "that caused her memory to fade, kept her unconscious" and made her "critically ill" at which point her husband divorced her by triple talaq.
The petitioner has also challenged the Dissolution of Muslim Marriages Act, 1939, saying that it fails to provide Indian Muslim women with protection from bigamy.
Bano has stated in her petition that the issue of gender discrimination against Muslim women under Muslim personal laws, specifically the lack of safeguards against arbitrary divorce and second marriage by a Muslim husband during currency of first marriage notwithstanding the guarantees of the Constitution, needs to be examined by the Supreme Court.
"Muslim women have their hands tied while the guillotine of divorce dangles, perpetually ready to drop at the whims of their husbands who enjoy undisputed power. Such discrimination and inequality hoarsely expressed in the form of unilateral triple-talaq is abominable when seen in light of progressive times of the 21st century.
"Further, once a woman has been divorced, her husband is not permitted take her back as his wife even if he had pronounced talaq under influence of any intoxicant, unless the woman undergoes nikah halala which involves her marriage with another man who subsequently divorces her so that her previous husband can re-marry her," her plea has said.
© Copyright 2021 PTI. All rights reserved. Republication or redistribution of PTI content, including by framing or similar means, is expressly prohibited without the prior written consent.