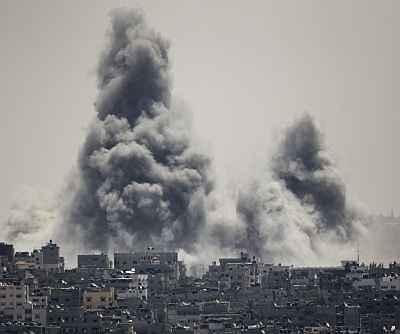 Intense shelling resumed in Gaza on Monday night after a lull with Israel warning of a protracted military campaign against Hamas despite mounting international calls for an immediate and unconditional ceasefire to end the 21-day conflict.
Israeli tank fire killed a four-year-old boy in the northern Gaza Strip on Monday, the first death since the two sides began observing an unofficial lull in fighting.
Israeli jets pounded several sites in Gaza after a rocket was launched at Israel. However, an Israeli army spokesman said there were no air strikes on Gaza since Sunday night but that one rocket was fired from Gaza on Sunday night and another on Monday morning, with the army responding to it.
"This ceasefire or abatement is dynamic on the ground. If we need to, we will respond," Israel's chief military spokesman Brigadier General Motti Almoz said.
United Nations Secretary General Ban Ki-moon asked both the parties to immediately halt violence in Gaza, saying the Palestinian territory is in a "critical condition".
"In the name of humanity, the violence must stop," he told reporters.
Shortly after he spoke, there were reports of two explosions in Gaza City -- one in a children's playground and one near Gaza's main hospital.
Ten people, including eight children, were killed when the Israeli missile hit the playground, a Palestinian official said.
At least 46 people were also wounded in the two attacks.
The latest death raised the Palestinian death toll to 1,046 in Israel's military campaign in Gaza to destroy rockets and cross-border tunnels which began on July 8.
The Gaza health ministry on Sunday revised the number of Palestinian dead down by 30 after some relatives found missing family members.
Israel's army said nine of its soldiers were killed on Monday in Gaza, bringing the total military death toll to 52.
Two Israeli civilians and a Thai national have also been killed in the conflict.
Israeli Prime Minister Benjamin Netanyahu warned of a "prolonged" Israeli campaign in Gaza.
"We will continue to act aggressively and responsibly until the mission is completed to protect our citizens, soldiers and children," Netanyahu said.
Calling Monday a "painful day", Netanyahu said Israel would not finish its operation until it had "neutralised" Hamas tunnels out of Gaza.
The UN Security Council late on Sunday night called for an "immediate and unconditional humanitarian ceasefire" between Israel and Palestine, asking the parties to implement the truce beyond the Muslim holiday of Eid and allow delivery of urgently needed assistance in Gaza.
Image: Smoke rises during an Israeli offensive in the east of Gaza City on Sunday
Photo: Ahmed Zakot/Reuters