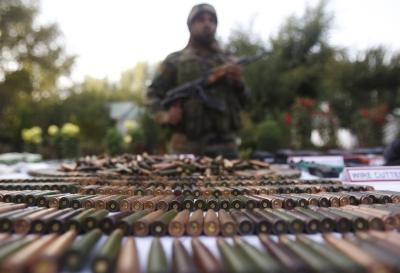 The 15-day long Keran anti-infiltration operation has been called off, according to a top Indian Army officer.
Lt Gen Sanjiv Chachra, GOC Northern Command, told a news conference that eight militants were killed and huge quantity of arms and ammunition were recovered.
"I visited the area and have given directions for calling off the concerted search. We have now further strengthened the counter infiltration grid in the area," the GOC said.
The operation began on September 23 after a massive infiltration bid by 30 to 40 militants backed by the Pakistan army's border action team in the Shalabhato area of the Keran sector.
Heavy exchange of fire, according to army thereafter took place for several days. The Indian Army said that an effective cordon was laid with complete control and domination in the area. Extensive searches were thereafter launched to neutralise the terrorists.
"Last (Monday) night also there was an infiltration attempt which was foiled," the GOC northern command said. "We had specific intelligence inputs of the infiltration by terrorists in the area and we were ready."
He said there was tacit support of the Pakistan army to these infiltration attempts, which have been foiled. He said there will be attempts in the future also, as the militants are making desperate attempts to sneak in before the onset of winter because the number of militants has dwindled in the hinterland.
Earlier media reports had claimed that the militants had occupied a village and some posts which was, however, rubbished by the army.

Image: An army soldier stands behind a display of arms and ammunition seized from infiltrators in Keran

Photograph: Danish Ismail/Reuters