Two militants of Lashkar-e-Taiba outfit were killed in a fierce gunfight in south Kashmir Pulwama district on Thursday. Mukhtar Ahmad/Rediff.com reports.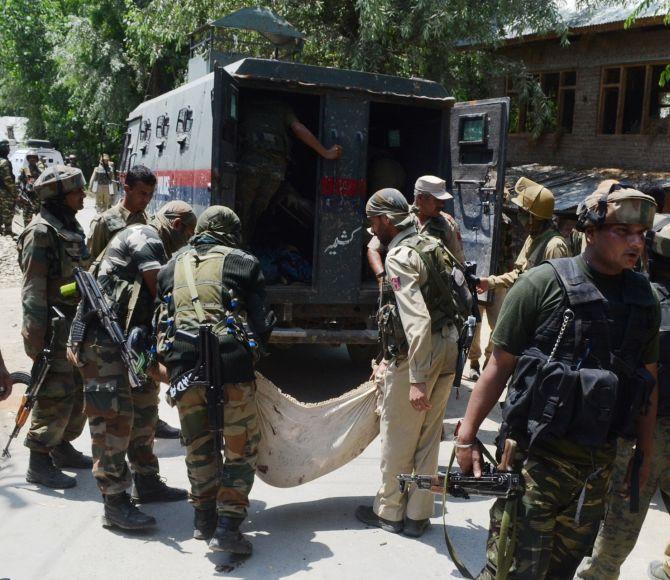 IMAGE: Two militants of the LeT were killed in the gunfight with security forces. Photograph: Umar Ganie
The gunfight broke out after troops of the Rashtriya Rifles and the special operations group surrounded a house in Malwara Newa village in Pulwama district on specific information about presence of a group of militants inside it.
"The militants holed up inside opened fire at the surrounding troops, triggering an encounter which is still on," the officer said.
"Two militants have been killed so far," he added. The slain militants are reported to belong to the district.
Violent protests broke out between local protesters and security personnel during the operation with several youth engaging in heavy stone pelting on the security forces in a bid to break the cordon.
Police reinforcements were rushed to the village. The security forces used repeated baton charges and tear smoke to disperse the stone pelting mobs who, however, continued to regroup.
Senior police officers have also reached the village. Police sources said three cops were injured in the stone pelting by mobs.
The gunfight came close of heels of the last Saturday's militant ambush in the district on paramilitary Central Reserve Police Force convoy.
Apart from two attackers, eight CRPF jawans were killed and 20 wounded in the ambush, the deadliest in recent years.
The ambush was the third attack on the security forces on the strategic Jammu-Srinagar national highway connecting the landlocked valley with rest of the country.