A white police officer who shot an unarmed black teenager sparking weeks of riots in the US town of Ferguson would not be indicted, a grand jury has ruled, amid mounting anger in the streets.
St Louis County Prosecutor Robert McCulloch late Monday night announced that the jury had found no probable cause exists to file a cause of indictment against police officer Darren Wilson, who killed Michael Brown, 18, in the month of August in a suburb of St Louis, Missouri.
Brown's family expressed profound disappointment over the decision of the grand jury.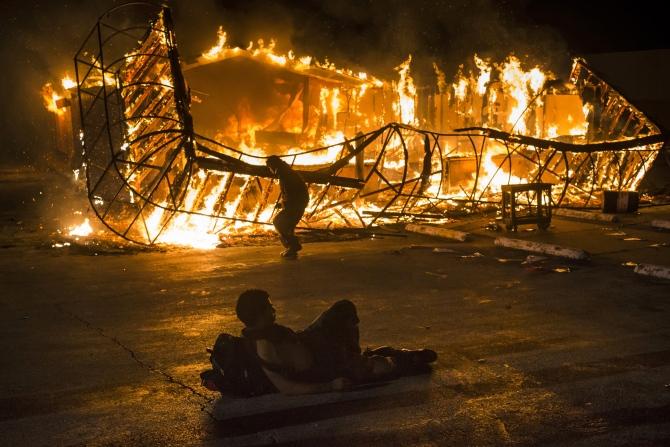 A resident, lying shirtless, keeps warm as another approaches the blazing skeleton of Juanita's Fashions R Boutique after it was burned to the ground in Ferguson, Missouri.Photograph: Adrees Latif/Reuters
---
Hundreds of protesters, with many of them breaking down in tears, gathered in front of the police station in Ferguson where officer Wilson was based chanting: "These killer cops have got to go."
Brown's family asked protestors to be peaceful.
"While we understand that many others share our pain, we ask that you channel your frustration in ways that will make a positive change," the family said in a statement.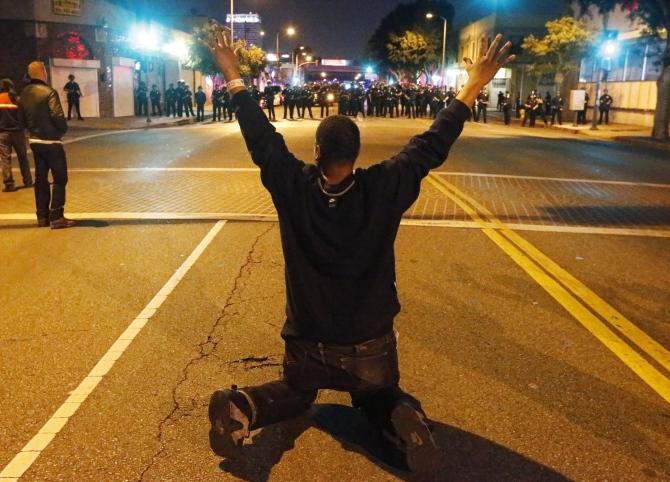 A man kneels in the road in front of a line of police during a demonstration in Los Angeles, California, following the grand jury decision in the shooting of Michael Brown in Ferguson, Missouri.Photograph: Lucy Nicholson/Reuters
---
"We need to work together to fix the system that allowed this to happen. Join with us in our campaign to ensure that every police officer working the streets in this country wears a body camera. We respectfully ask that you please keep your protests peaceful," the statement said.
US President Barack Obama urged people to maintain calm and not to resort to violence.
"I join Michael (Brown)'s parents in asking anyone who protests this decision to do so peacefully," Obama said.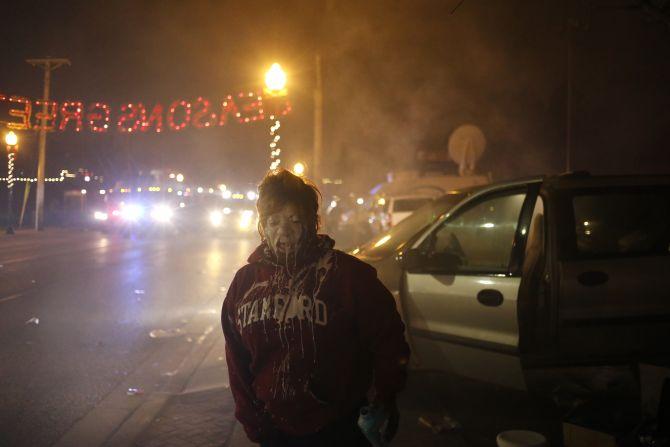 A protester stands in the street after being treated for tear gas exposure after a grand jury returned no indictment in the shooting of Michael Brown in Ferguson. Photographs: Adrees Latif/Reuters
---
"There is no excuse for violence," he said in a late night appearance before the White House Press Corps.
"I also appeal to the law enforcement officials in Ferguson and the region to show care and restraint in managing peaceful protests that may occur," Obama added.
Missouri Governor Jay Nixon called for calm after calling up National Guard troops to stand by in case of unrest.
Anticipating unrest, Ferguson schools have already closed for the week.
However, there were protests in Ferguson against the grand jury ruling not to indict Wilson.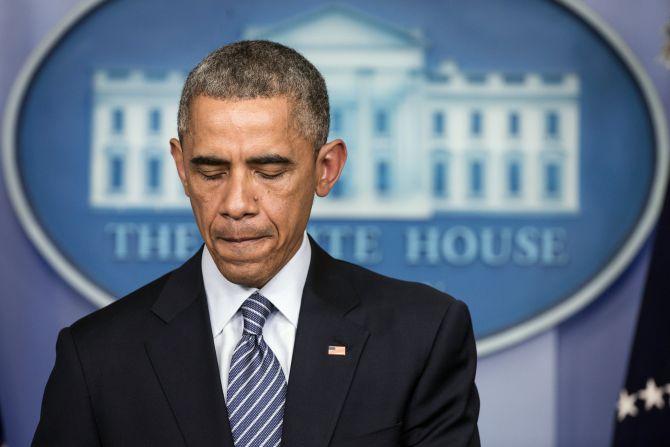 U.S. President Barack Obama pauses while making a statement in the wake of the decision by a Missouri grand jury not to charge a white police officer in the August fatal shooting of unarmed black teenager Michael Brown in Ferguson. Photographs: Joshua Roberts/Reuters
---
Police fired tear gas at protesters who damaged and attempted to overturn a police car. Some protestors were seen throwing bottles at policemen.
McCulloch told reporters that the grand jury arrived at the decision after an exhaustive review for two days.
"The physical and scientific evidence examined by the grand jury, combined with the witness statements, supported and substantiated by that physical evidence, tells the accurate and tragic story of what happened," he said.
Protesters vandalize a police car outside the Ferguson Police Department in Ferguson, Missouri. Photographs: Jim Young/Reuters
---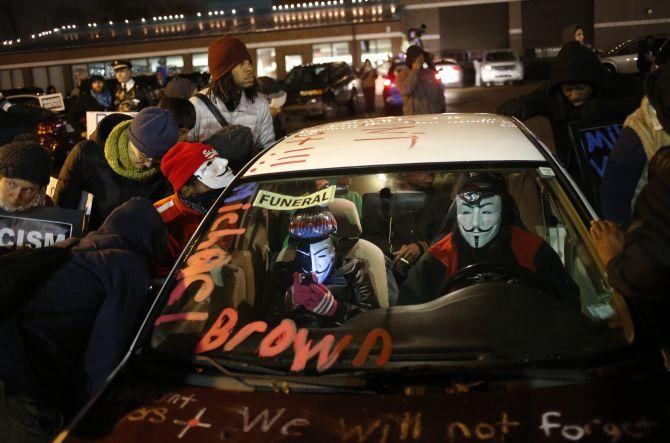 Protesters listen to the grand jury announcement in the shooting of Michael Brown outside the Ferguson Police Department in Ferguson. Photographs: Adrees Latif/Reuters
---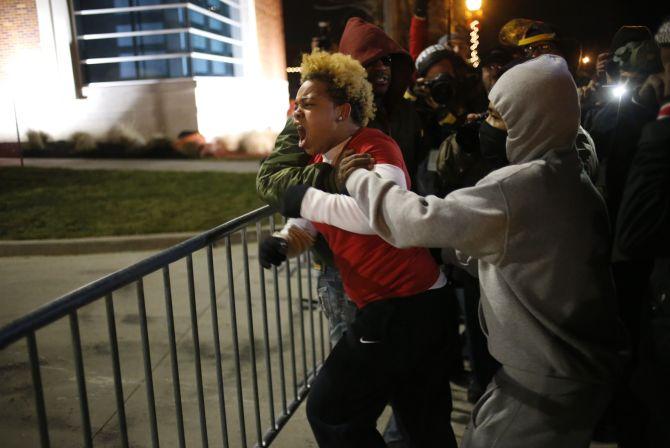 A woman approaches the barricade to confront the police outside the Ferguson Police Department in Ferguson, Missouri. Photographs: Adrees Latif/Reuters
---
Missouri State Troopers in riot gear stand in formation outside the Ferguson Police Department in Ferguson, Missouri. Photographs: Jim Young/Reuters