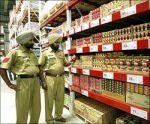 Prime Minister Manmohan Singh's dinner on Thursday for the Bharatiya Janata Party top brass failed to break the impasse over the Foreign Direct Investment in retail issue with the opposition party insisting on a discussion in Parliament on it under provisions which entail voting.
The dinner was attended by BJP Parliamentary Party Chief L K Advani, Leader of Opposition in Lok Sabha Sushma Swaraj and her Rajya Sabha counterpart Arun Jaitley. Parliamentary Affairs Minister Kamal Nath and Finance Minister P Chidambaram were also present.
Sources said the dinner failed to break the logjam with BJP remaining adamant on its stand. This is likely to lead to disruptions and adjournments in Parliament on Friday as well.
The government maintains that since the decision to allow 51 per cent FDI in multi-brand retail was taken through an executive order the issue can be discussed in Parliament but not put to vote.
But BJP and the Left parties, among others, are not convinced and are of the view that the government went back on its assurance given to both Houses of Parliament that a decision on FDI in retail would be taken only after talking to all stakeholders. They are insisting that the matter should be discussed and voted upon in Parliament.
The opposition senses an opportunity here to embarrass the government as UPA ally Dravida Munnetra Kazhagam as well as the Samajwadi Party, which supports the dispensation from outside, have openly said that they are against FDI in retail.
SP and Bahujan Samaj Party, however, have adopted for an ambivalent stand on whether the FDI debate should be put to vote.
The government will continue its efforts to end the deadlock next week through an all-party meeting scheduled for Monday to find a way out.
Lok Sabha Speaker Meira Kumar had convened a meeting on Wednesday to bring the opposition and the government on board for smooth functioning of the House but the two sides stuck to their positions.