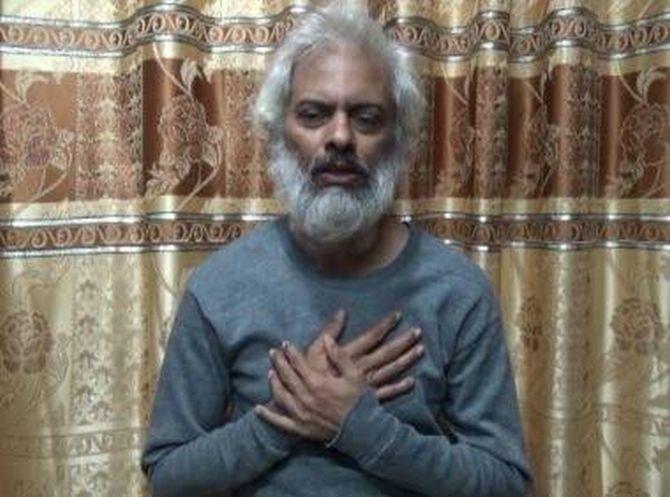 Father Tom Uzhunnalil, a Catholic priest from Kerala, has been rescued in Yemen, 18 months after he was abducted by Islamic State terrorists during a deadly attack on a care home in the port city of Aden in the war-ravaged country.
'I am happy to inform that Father Tom Uzhunnalil has been rescued,' External Affairs Minister Sushma Swaraj Swaraj said in a tweet.
Late in the evening, she said that Father Uzhunnalil had reached Vatican.
Father Uzhunnalil was abducted in March last year by Islamic State terrorists after they attacked the care home run by Mother Teresa's Missionaries of Charity.
At least 15 people at the old-age home were killed in the attack.
Earlier in the day, Oman's official news agency ONA reported that Oman in coordination with the 'Yemeni parties' had managed to find Father Uzhunnalil and that he has been moved to Muscat.
It said Uzhunnalil thanked God and appreciated Oman's Sultan Qaboos bin Said. He also thanked his brothers and sisters and all relatives and friends who prayed for his safety and release.
Kerala Chief Minister Pinarayi Vijayan said that the release of Uzhunnalil was 'heartening'.
'The intervention of Oman had paved the way for his release, I understand,' he said in a Facebook post.
All help will be provided to enable him reach Kerala and for his further treatment, he added.
Catholic Bishops Conference of India President and Major Archbishop of Syro Malankara church Baselious Cardinal Cleemis Catholicos and Bishop Theodore Mascarenhas, CBCI Secretary General said the church was grateful to the government of India and all concerned for the steps taken to secure his release.
A video of Uzhunnalil had surfaced in December last year in which he appealed to the government to free him.
In the clip, Uzhunnalil was seen saying, "If I were a European priest, I would have been taken more seriously. I am from India. I am perhaps not considered of much value."
In July, Swaraj had taken up the the issue of Uzhunnalil's abduction with the Deputy Prime Minister of Yemen and requested him to secure the release of the priest.
Last year, Swaraj had said Prime Minister Narendra Modi himself has spoken to various countries so that the the priest could be released.