As television channels flashed images of close to 30,000 farmers gathering at Mumbai's Azad Maidan, Bharatiya Janata Party MP Poonam Mahajan claimed that the Maharashtra farmers' protest was propelled by urban Maoists. "Tribals in Maharashtra have been captured by urban Maoism," said Mahajan to News18.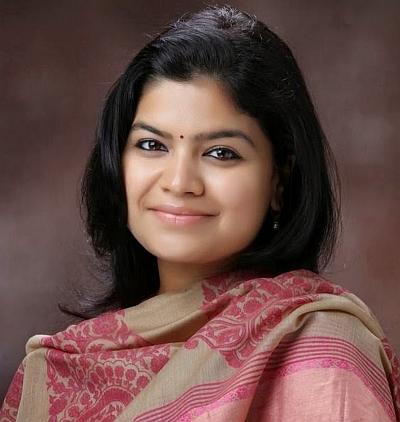 On Monday, Azad Maidan in south Mumbai turned into a sea of red on Monday as thousands of farmers, carrying red flags, converged after walking around 180 kilometre under the blazing sun over the last six days.
The farmers are demanding of an unconditional loan waiver, and transfer of forest land to tribal farmers who have been tilling it for years.
Poonam, daughter of Pramod Mahajan, a MP representing Mumbai North Central said, "They (farmers) are holding the flag of Communists, and urban maoists are misguiding them.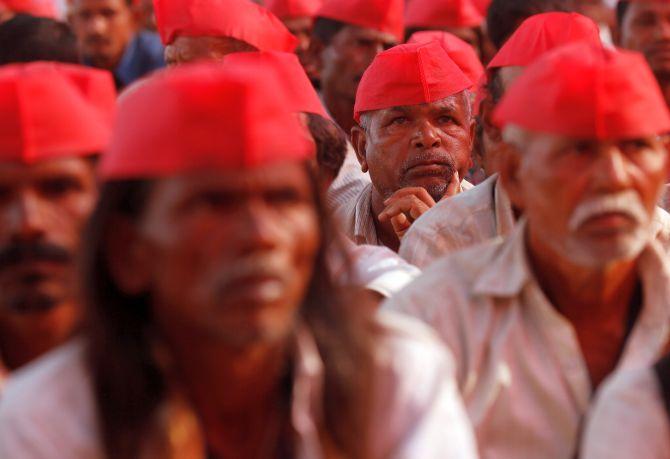 IMAGE: Farmers listen to a speaker at a rally organised by All India Kisan Sabha in Mumbai.
Photograph: Danish Siddiqui/Reuters
"If you have seen this march, a big and peaceful march, with farmers holding a communist flag and they've all come from northern Maharashtra. With respect to all this, what do all these farmers want? They have accepted the loan waiver has happened. When the chief minister sits with the farmer leaders, they'll sort out the issues."
Responding to Mahajan's statement, Communist Party of India-Marxist's Sitaram Yechury later tweeted, "These are no 'Urban Maoists' @poonam_mahajan, these are the people who feed the nation. But yes they also have the power to bring down arrogant, out-of-touch corporate agents like you and your party!"