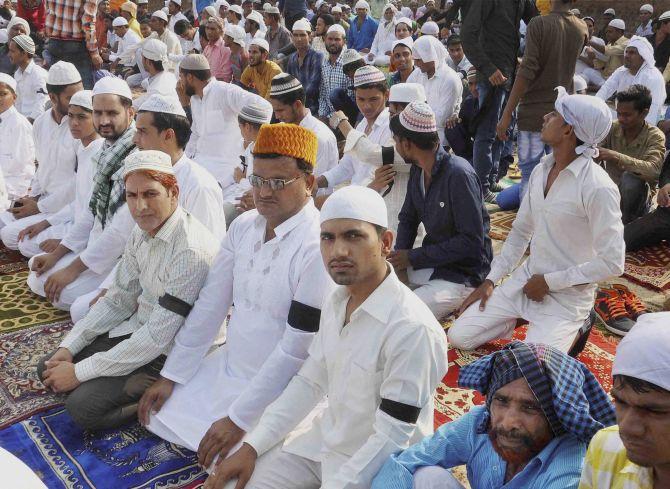 IMAGE: Muslims wear black bands on their arms in protest against the lynching incident on board a train as they offer Eid prayers at village Khandwali in Faridabad on Monday. Photograph: PTI Photo
As villagers on Monday wore black bands to protest the killing of a Muslim youth on board a Mathura-bound train, his elder brother, Hashim, struggled to come to terms with the reality that he would be celebrating this Eid without his sibling.
Despair hung like a shroud over Khandwali village, lying on the outskirts of the national capital, as the family and other locals remained in a state of shock over the brutal killing of their 17-year-old 'son' Junaid.
The Muslim residents, who wore black bands during the special morning namaz, said Eid has lost all its meaning and wondered if 'the spate of lynchings' would ever end.
Junaid's father Jallaludin, 55, told reporters that Eid would never be the same for the family.
'When Junaid and I asked why they were pushing, they pointed to the skull cap on my head. They said we are Muslims, anti-nationals, Pakistanis, that we eat beef. Then they pulled my cap, threw it down and they also tried to pull my beard.'
Though prayers were offered in the morning, no Eid celebrations were held. The villagers gathered around Jallaludin and other family members, consoling them in their hour of grief.
Reports stated that people also wore black bands at some other places, including Mewat, as a mark of protest against the horrific killing.
Junaid's cousin, Sanovar Khan, said they had posted about the protest on social media.
Hashim, 20, broke down several times as he recalled the fateful Thursday evening when he along with his other siblings boarded the train from Delhi's Sadar Bazaar after finishing Eid shopping.
"They killed him in cold blood. All of a sudden, a group of 20-25 persons who had boarded the train from Okhla station pushed my brother Junaid and he fell down," he recalled, his voice choking with emotion.
"When Junaid and I asked why they were pushing, they pointed to the skull cap on my head. They said we are Muslims, anti-nationals, Pakistanis, that we eat beef. Then they pulled my cap, threw it down and they also tried to pull my beard," he said.
Jallaludin, while trying to console Hashim, dismissed the police's claim that Junaid was killed because of a dispute over the sharing of a seat.
"Junaid had, in fact, vacated a seat for an elderly person. The seat theory is being cooked up as an excuse. The incident is purely communal in nature and my son was targeted because of his religious identity," he said.
"We offered namaaz but we won't celebrate the festival. We want those responsible for our son's death to be punished," he said when asked about the 'black Eid' in the village.
Khattar announces ex gratia of Rs 10 lakh for Junaid's kin
Haryana Chief Minister Manohar Lal Khattar on Monday said that one accused has been arrested and also announced ex gratia of Rs 10 lakh to the family of deceased.
He also assured that the police are searching for the other accused as well. He also condemned the incident and appealed the nation to maintain peace.
Jallaludin, when asked if anyone from the Haryana government had met family yet, said, "Not even a lower rank official of the state government has visited us, what to say about the chief minister. We have not even heard anybody from the government condemning the incident."
Shakeel, a resident of Khandwali in Ballabgarh near Delhi, told reporters, "We could not have celebrated Eid with the usual sense of joy considering how Junaid was killed. So we decided to mark our protest by wearing black bands around our arms."
"When will this stop? After every such incident, the government offers some compensation and people move on. But the question is, will it ever stop?" asked a villager in his 20s.
He also questioned the efficacy of the administration in acting against the accused, wondering why only one arrest had been made in four days.
The police had on Sunday announced a reward of Rs one lakh for credible information leading to the arrest of other accused in the case.
The family was on Sunday given a cheque for Rs 5 lakh by the District Red Cross while Wakf Board chairman announced another Rs 5 lakh and a job to one of Jallaludin's sons.
Junaid was stabbed to death while his brothers, Hashim and Sakir -- were injured by a mob which also allegedly hurled slurs against them onboard the Delhi-Mathura passenger train between Ballabgarh and Mathura stations on Thursday night.
The arrested accused, before being remanded to police custody by a court in Faridabad district earlier, had told reporters that he was in an inebriated state at the time of the incident and attacked the teenager on being allegedly instigated by fellow passengers.