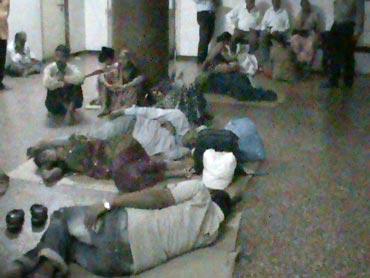 Rediff.com's Sonil Dedhia speaks to the family of Prashant Joshi, who was one of those who were badly injured in the Zaveri Bazaar blast on July 13.
Ruta Joshi will never forget the evening of July 13. Her husband Prashant Joshi, 35, who works as a clerk in a private firm was returning to his workplace at Abdul Rahman Street through Zaveri Bazaar when tragedy struck in the form of the blast. Prashant was hit in his head and his right eye was severely damaged.
He was rushed to St George Hospital, near Mumbai's CST station. However, considering the seriousness of his condition, the doctors there decided to transfer him to JJ Hospital.
Prashant's employer, Paresh Kotak, recalls angrily, "He was shifted to JJ Hospital in an ordinary ambulance that had no emergency facilities. What if he had died while he was on his way to the hospital?"
The Joshis spent a tense night as Prashant underwent emergency surgery. Finally, at 4 am yesterday, the doctors stepped out of the operation theatre to give them a ray of hope. The operation was successful and they had managed to remove the bits of metal embedded in Prashant's brain. However, he would be kept under observation for 48 hours.
In the waiting room outside JJ Hospital's Critical Care Unit, Prashant's family huddled together, giving each other much needed courage. A mat had been spread on the floor, where the family would rest awhile.
A relative, who had come to visit the Joshis, says, "There is no facility available in the hospital. They are asking us to buy medicines. You can see the state of the waiting room. There is no proper seating facilities, no ventilation, no fans; cats are roaming in the corridor. The whole system is pathetic." 
The Joshi family does not seem to notice these problems. They are only focused on Prashant.
Around 5 pm last evening, Prashant was taken for a CT scan. His wife, Ruta, waited anxiously for the result, as did Prashant's father.
A relative went to speak to the doctor. The news was good; the scan showed minor improvements in Prashant's health. Ruta looked upwards, seemingly thanking the heavens for the miracle. But Prashant's father continued to look anxious. A former neighbour put an arm around the old man's shoulder, while a relative pressed his arm, lending him strength and support.
Prashant's family friend, Pravin Shah, said it was really a sad situation for the family. "It is beyond anything that one can put in words," he said. "Prashant was always calm and easy-going. He had a ready smile. He is the sole breadwinner in the family."