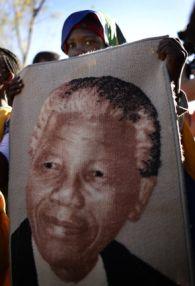 Ailing Nelson Mandela "cannot let go" his spirit because he is deeply troubled by the on-going feuding in the family, according to elders of the clan that the former South Africa president belongs to. The weekly Sunday Times on Sunday reported this quoting a submission in support of an urgent application in the Mthatha high court to have the remains of three of Mandela's children -- Makgatho, Thembekile and Makaziwe (a daughter who died at nine months) -- moved from Mvezo back to Qunu.
Seventeen members of the Mandela family brought the application to have the remains re-interred at his ancestral home in Qunu, which were removed and reburied at neighbouring Mvezo by Mandela's grandson Mandla Mandela three years ago.
The court ruled in favour of the applicants, with Mandla reported to have accepted the judgement. Mandela clan elders and local chiefs said they believed that Mandela's prolonged ill health was due to clan ancestors being angry at Mandla's move to rebury the children in 2011. Some went as far as declaring that the ancestors could have "cursed" the Mandela family over the actions.
"Mandela's soul is not at peace. The ancestors will only be appeased once the remains of the Mandela family are reburied in Qunu. Only then will Tata be released," the Sunday Times quoted one of the unnamed local chiefs as saying. Mandela, 94, is in a critical but stable condition in a Pretoria hospital, where he entered his fourth week for treatment of a recurrent lung infection.
After a worldwide scare that the end was imminent when President Jacob Zuma cancelled an important trip on Thursday, Zuma on Saturday said that there was improvement in Mandela's condition and that he may be able to go home soon. Unconfirmed reports earlier said Mandela was on life support, with some family members confirming that he was in serious condition.