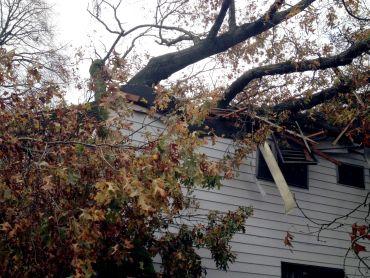 Though his house has almost been destroyed by a huge oak tree that fell on it, Sam Kurian is grateful that nobody inside was hurt.
"It was unbelievable," said Kurian, who works at the Sound Shore Hospital and lives in New Rochelle, New York.
"No one expected such a huge tree would ever fall."
The tree, which was more than 100 years old, belonged to a neighbour. It came crashing with a deafening sound at around 5:30 pm October 29.
Fortunately, Kurian, his wife Jolly and daughter Ashley -- his son Justin was away at Hofstra University -- were on the first floor of the four-level house.
"There was some painting work going on the top floor, which is why we were below. It saved our lives," he said.
The trunk of the tree pummeled the roof and its branches fell into the bedrooms. The family ran out in panic, calling friends and the authorities.
The tree remained on the house for three days. It was cut down after an insurance assessment. Since it was a live tree, Kurian's insurance is liable, even though the tree belonged to the neighbour.
If it was a dead tree, its owner is liable for damages, as per insurance laws.
Kurian and his family now live in a hotel.
Image: The huge oak tree that destroyed Sam Kurian's house at New Rochelle, New York