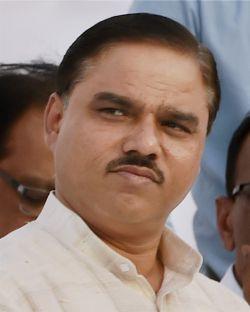 Former Delhi law minister Jitender Singh Tomar was sent to Tihar jail by a Delhi court on Sunday in the alleged fake degree case after police said that it does not require his custody for now.
Tomar was produced in the court by the police on the expiry of his two day police remand. He has been in police custody since his arrest on June 9 with court extending his police remand period thrice.
"In the circumstances, investigating officer submits that the accused be sent to one day judicial custody as his presence is required for taking specimen signatures in connection with the case. Accused is granted one day judicial custody," Metropolitan Magistrate Ankit Singla said.
The magistrate, however, recused himself from becoming witness to the Delhi Police's plea for taking specimen signature necessary for the case citing personal reasons.
"I have already conveyed my request to chief metropolitan magistrate to recuse me from deciding the applications in the case due to personal reasons. Therefore, I can't become witness to factum of taking specimen signatures of the accused," the magistrate said.
He also directed the IO that application for specimen signatures and all subsequent applications in the case are put before the court of CMM.
The magistrate, who was also to hear the bail plea of Tomar which was listed for on Monday, recused himself from hearing it and transferred it to the court of CMM.
Earlier during the hearing, Delhi police told the court that Tomar's police custody is not needed for now and he be sent to 14-days judicial custody.
The magistrate, however, said that since application for specimen signature has been moved by the police, so Tomar be sent to one day judicial remand and be produced before CMM where the police plea will be decided.
After the hearing, Tomar was taken to Tihar jail amid tight security.
During the hearing, Tomar moved an application through his advocate Harshit Jain seeking direction to jail superintendent and court lock-up incharge that he be lodged in separate wards and be taken to jail in a separate van due to security reasons.