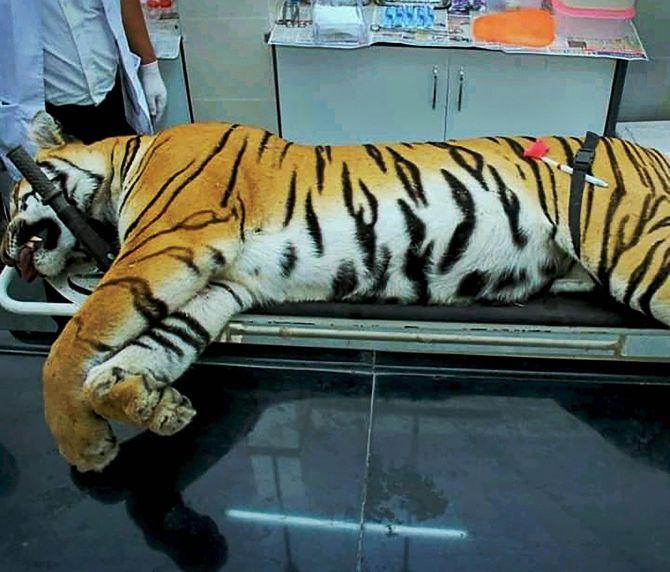 As the controversial killing of tigress Avni in Maharashtra kicked up a row, Chief Minister Devendra Fadnavis said on Monday preliminary reports showed that the forest department team shot her in 'self-defence' after it was attacked while trying to tranquilise the animal.
Fadnavis also said any procedural lapse in the incident will be probed even as Congress chief Rahul Gandhi and Union Environment minister Harsh Vardhan were locked in a spat over the killing of the 5-year-old tigress.
The tigress, officially as T1 and believed to be responsible for the deaths of 13 people in the past two years., was shot dead by sharp-shooter Asgar Ali in the Borati forest in Maharashtra's Yavatmal district on Friday as part of an operation.
Fadnavis said preliminary reports made available to him stated that the tigress was shot after she attacked the forest staff trying to tranquilise her.
"There is no happiness over the killing. The forest department took the decision since she had killed 13 to 14 people. There are some doubts regarding whether the tigress was first shot and then the dart inserted, this aspect will be probed," he told reporters in Mumbai.
"We speak of increasing tiger population and conserving wildlife, and then unfortunately such a decision had to be taken. The tiger is a gentleman. He attacks only if his habitat is violated.
Preliminary reports with me say the tigress attacked the forest department team and she was shot in self defence," the chief minister said.
"Hunter Asghar Ali was hired by the forest department. The doubts raised regarding the killing will be verified."
Asked to comment on Union Minister Maneka Gandhi's statements on the killing, Fadnavis said she had used 'harsh words'.
Maharashtra Forest Minister Sudhir Mungantiwar Monday hit back at Union minister Maneka Gandhi, who had slammed him for hiring private marksmen Shafat Ali Khan and his son Asgar Ali for carrying out hunting operations in the state.
A day after the Union women and child development minister lashed out at the Maharashtra government over the 'ghastly murder' of the tigress, Mungantiwar said she 'lacks information' on the issue and was free to order a high-level probe.
Mungantiwar, a senior Bharatiya Janata Party leader, claimed that Khan was tasked with shooting a tiger in Maneka Gandhi's Pilibhit Lok Sabha constituency in Uttar Pradesh in 2009 (Gandhi's son Varun Gandhi was representing the constituency in 2009).
"Hyderabad-based sharpshooter Shafat Ali Khan was given a certificate of appreciation by the principal chief conservator of forest (PCCF) of Pilibhit for killing a tiger," he told reporters at the Mantralaya in Mumbai.
Maneka Gandhi, the current BJP MP from Pilibhit, had alleged that Khan had killed three tigers, at least 10 leopards, elephants and 300 wild boar in Chandrapur in eastern Maharashtra. Mungantiwar hails from Chandrapur district.
'He (Shafat) is a criminal known for supplying guns to anti-nationals and for a suspected case of murder in Hyderabad,' the Union minister had said in a tweet.
Mungantiwar said Khan's name was registered with the governments of nine states to carry out such operations.
"Maneka Gandhiji has used the most derogatory comments against the state government, which has lowered the morale of the forest officials. I will write a letter to her and ask her to use national or international agencies to probe the issue and I ensure my cooperation," he added.
Mungantiwar said Gandhi was a 'victim of lack of information'.
"She could have spent 50 paise to call me up to ascertain the facts, instead of taking to the social media," he added.
"Instead of lodging a complaint with the chief minister, the Union minister can order a high-level inquiry into the incident by a Supreme Court judge or a committee of Supreme Court judges," Mungantiwar said.
He claimed that Maharashtra's tiger population had gone up by around 25 per cent in the last four years due to various initiatives of the state government since he took charge as the forest minister.
Responding to Gandhi's charge that three tigers were killed on his orders in the past, Mungantiwar said neither he nor the forest secretary had the right to order such killings.
"The tigers were killed in 1995, 2006, 2013 and 2014. I was not a minister then," he added.
"After I took charge, there was one such case in 2017. Even then, the National Tiger Conservation Authority (NTCA) guidelines were followed and the tiger was only tranquilised. Hence, this is only lack of information that such baseless charges are being levelled by our central leader," Mungantiwar said.
Seeking to justify the killing of T1, he said a tigress was beaten to death and run over by a vehicle in an Uttar Pradesh village Sunday, after it mauled just one person.
"Here, 13 persons were killed. We do not want tribals, farmers and villagers to turn enemies of wild animals. They are the ones who are actually helping in animal conservation," he said.
After the killing of T1 sparked an outrage, Gandhi came out with a series of tweets Sunday.
'It is nothing but a straight case of crime. Despite several requests from many stakeholders, (Sudhir) Mungantiwar, Minister for Forests, Maharashtra, gave orders for the killing,' she had said in one of the tweets.
The Union minister had said she would take up the matter 'very strongly' with Fadnavis.
*****
Tigress 'lynched' in Dudhwa: FIR lodged against 6 persons
A first information report was lodged at the Sehramau police station in Pilibhit district on Monday against six persons and some unidentified villagers in connection with the alleged lynching of a tigress.
The FIR was lodged under various sections of the Indian Penal Code and the Wildlife Protection Act, Sehramau kotwali police inspector Atar Singh said.
In his FIR, Kishanpur sanctuary forest guard Mohan Ram implicated Bablu, Mukesh, Lal Bahadur, Chauthi, Subhash, Om Prakash and six unidentified villagers, he added.
Meanwhile, a post-mortem of the tigress was performed at the Dudhwa Tiger Reserve office in Paliya town as per the procedure laid down by the National Tiger Conservation Authority (NTCA) to ascertain the exact cause of its death, DTR Deputy Director Mahavir Kaujlagi told PTI.
The tigress was allegedly killed by a mob of angry villagers on Sunday evening after it attacked Devanand, 50, of Chaltua village, located in the Kishanpur sanctuary area of the DTR.
The irate villagers allegedly held the DTR field staff patrolling the area hostage and manhandled them.
The field staff, along with their elephants and tractors, were rescued on Sunday night after Kaujlagi sought help from the Pilibhit police.
Meanwhile, DTR Field Director Ramesh Kumar Pandey, who, along with PCCF (wildlife) Pawan Kumar, Additional PCCF Sanjay Kumar Srivastava, Pilibhit Tiger Reserve Director H Rajamohan, Kaujlagi and two doctors from the World Wildlife Fund -- Mudit Gupta and Anil Singh -- was present during the post-mortem of the tigress, told PTI, "During the autopsy, it came to light that the tigress had both ante-mortem and post mortem injuries on its body which led to its death."
He added that a porcupine quill was found to have injured the big cat's nasal tract.
"A heavy load of worms seems to have made the big cat lethargic and stay at one place," Pandey said, adding that a thorough probe into the killing of the animal was on and appropriate action would be taken.