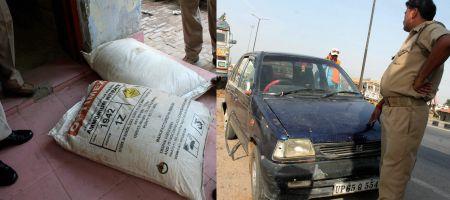 Initial investigations reveal that the 145 kilos of ammonium nitrate that were seized by the cops on Saturday were just a sign of things to come. Vicky Nanjappa reports.
A day after three bags filled with nearly 145 kilos of highly explosive ammonium nitrate were discovered in a car in Varanasi, investigating officials have revealed that the ammonium nitrate was smuggled in from Gaya and that it seems that the explosives were to be used to carry out a series of blasts in Varanasi.
Investigating the case, authorities said that Gaya is a Naxal-infested area and also houses Indian Mujahideen operatives, which is why the terror angle is being thoroughly investigated.
An officer with the Intelligence Bureau added that outlawed and terror groups such as the Indian Mujahideen and Students Islamic Movement of India are targeting Varanasi since it is now the constituency of Prime Minister Narendra Modi, who happens to be their pet target.
In fact, even during campaigning for the Lok Sabha polls, security in the area was at its maximum owing to Modi's presence. Police officials had been warned not to let their guard down even after the polling process was complete.
An IB officer added that the whole thing might have been an exercise by the terror groups to gauge the security in the area and that this could be a sign of things to come in the future.
The authorities are also on alert owing to the rise in political murders in Uttar Pradesh over the last few weeks. Many within the Bharatiya Janata Party feel that their workers are being targeted owing to the crucial election, which is scheduled for 2017.
Image: A combination photo of the explosives seized by the Varanasi police and the car in which they were found. Photograph: PTI