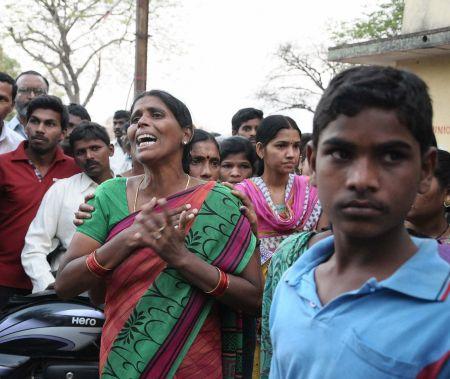 Two people were killed and at least 13 others suffered burn injuries, after an explosion at the premises of Gulf Oil Corporation Ltd (Explosives Division), formerly known as IDL Industries, at Kukatpally on Monday evening, police said.
"Two workers died and at least 13 others who suffered burn injuries have been rushed to different hospitals. The fire that broke out after the explosion has been controlled," Deputy Commissioner of Police (Madhapur Zone) Kartikeya said.
Additional Deputy Commissioner of Police M Srinivas Rao said that the explosion and subsequent fire occurred when some detonators were being disposed off at the unit.
Telangana Home Minister Nayani Narasimha Reddy is on his way to the explosion site.
Image: Relatives wail after two people died in the blast at the Gulf Oil Corporation Ltd factory. Photograph: PTI photo