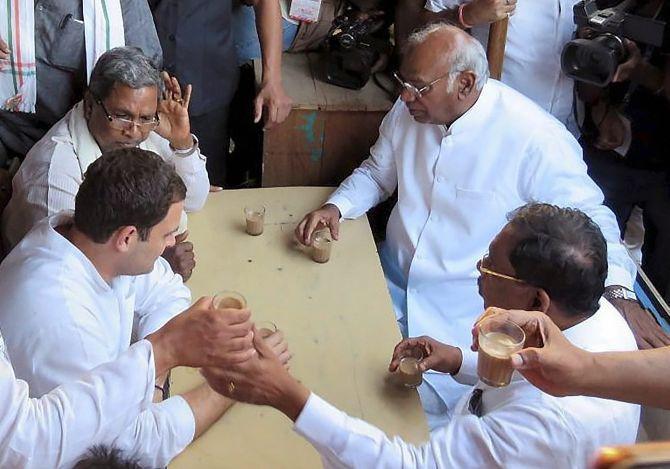 Dismissing Prime Minister Narendra Modi's statement that strict action would be taken in the Punjab National Bank fraud case, Congress President Rahul Gandhi on Saturday asked him to first explain how the money was taken away from the bank under his nose.
"A scam of Rs 22,000 crore happens, Nirav Modi runs away with Rs 22,000 crore from Indian Banks and Modiji (Prime Minister) says action will be taken," Gandhi said addressing a rally in poll-bound Karnataka.
"Action will be taken? You first make us understand how did Nirav Modi take Rs 22,000 crore from Indian banks under the nose of Narendra Modi's government," he said,
He demanded to know why the finance minister and Modi 'allowed this to happen'.
As yet another bank fraud came to light on Saturday, Rahul hit out at the Modi government alleging that the Delhi-based diamond jeweller involved in the scam 'disappeared' like Nirav Modi and Vijay Mallya while the government looked the other way.
He said the promoter of Dwarka Das Seth International, who was booked by the Central Bureau of Investigation for an alleged fraud of Rs 389.85 crore towards Oriental Bank of Commerce, operated with the same modus operandi of fake LoUs as Nirav Modi.
'Under Modi Ji's 'Jan Dhan Loot Yojana', another scam!
'390 Crore, involving a Delhi based jeweller. Same Modus operandi as Nirav Modi. Fake LOU's.
'Predictably, like Mallya and Nirav, this promoter too has disappeared while the Government looked the other way,' Rahul said in series of tweets.
Breaking his silence over the Rs 11,400-crore fraud at India's second-biggest PSU bank, Modi had on Friday warned of strict action against those involved in financial irregularities and said loot of public money would not be tolerated.
Rahul Gandhi has, however, been claiming that the size of the fraud is Rs 22,000 crore.
The Congress chief is touring parts of north Karnataka as part of his second leg of campaign in Karnataka, where elections are expected in April-May.
During his speech, Rahul on Saturday repeatedly quoted 12th century social reformer Basaveshwara from Karnataka, revered by dominant Lingayat/Veerashiva community which is predominantly present in northern parts of the state, to attack the prime minister.
He said Basaveshwara had said five things -- 'don't indulge in theft, don't indulge in violence, do not lie, do not boast about yourself and don't spread anger'.
"First one was don't indulge in theft. Narendra Modi says that the Congress party government in Karnataka is corrupt. When he says it, on his right side is his chief ministerial candidate Yeddyurappa who had gone to jail, on the other side four more ministers who had gone to jail," Gandhi said.
The Congress president said that Modi, who gives 'long speeches', was quiet on the Rafael fighter jet deal.
"He (Modi) banned the notes, implemented Gabbar Singh Tax and destroyed lakhs of businesses, but Jay Shah's (BJP President Amit Shah's son) business within three months converts from Rs 50,000 into Rs 80 crore. On this Narendra Modi does not speak anything."
Pointing out that Basaveshwara also said don't indulge in violence, Gandhi hit out at the Modi government,accusing it of dividing society and indulging in atrocities against Dalits and minorities.
Referring to Basaveshwara's preachings against lying, Gandhi said Modi made 'promises in the 2014 Lok Sabha polls, including that Rs 15 lakh will be deposited into bank accounts of every Indian, jobs to two crore youth and making India corruption free'.
"Has he worked on this and shown to you? Wasn't the Rs 15 lakh promise a lie...?" he asked.
Gandhi also accused the prime minister of claiming credit for every achievement of the country.
"You say nothing happened in 70 years and whatever is happening, whether it is in your party or in the country, it is only because of Narendra Modi."
"Whether it is a rocket launch or the Army personnel that fight and are martyred on the border, Modiji says see I did it," he said.
"Sushma Swaraj (external affairs minister), Nitin Gadkari (transport minister) and Home Minister (Rajnath Singh) do not have any work in the government and only one man works, that is Narendra Modi.
"Modiji when you bow before Basawaji, remember what he said- do not boast about yourself, this is the truth," Gandhi said.
Rahul has been using the hashtag 'ModiRobsIndia' to target Prime Minister Narendra Modi and his government over the cases of bank frauds.
The CBI on Friday booked Dwarka Das Seth International Pvt Ltd for an alleged bank loan fraud of Rs 389.85 crore towards Oriental Bank of Commerce.
Six months after the public sector bank filed a complaint with the CBI, the agency booked the company, and Sabhya Seth, Reeta Seth, Krishna Kumar Singh, Ravi Singh -- all directors of the firm -- and another company named Dwarka Das Seth SEZ Incorporation.
The company has availed various credit facilities from OBC between 2007-12, which swelled to Rs 389 crore during the period.
The string of frauds came as an embarrassment for the Bharatiya Janata Party-led central government, which had come to power on an anti-graft plank and had often listed corruption-free administration as one of its main achievements.
IMAGE: Congress president Rahul Gandhi with Karnataka CM Siddaramaiah and other party leaders at a tea stall in Vijayapura on Saturday. Photograph: PTI Photo