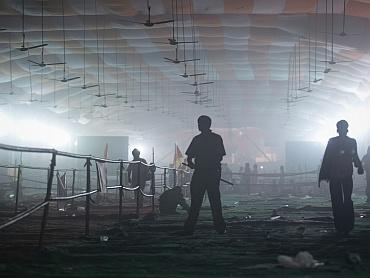 Taking suo motu cognisance of forceful eviction of yoga guru Baba Ramdev and his followers from the Ramlila grounds in New Delhi, the Supreme Court on Monday sought the Centre's response on the incident.

A vacation bench of justices B S Chauhan and Swatenter Kumar issued notices to the Union Home Secretary, Chief Secretary of Delhi, Delhi administration, and Delhi Police Commissioner asking them to respond within two weeks.

The court asked them to reply as to what were the circumstances under which the people had to be dispersed in the midnight by the use of force.

The bench was commenting on a petition moved by advocate Ajay Aggarwal who said that no FIR had been registered against the police officials, who resorted to lathicharge on helpless sleeping satyagrahis at the maiden pandal.

"We are stunned by what we have seen on television channels and read about in newspapers. There is no need for a petition as we are taking cognizence of the action," the court said.

The court posted the matter for hearing in the second week of July.

However, the court declined to entertain a petition filed by advocate Ajay Aggarwal on the issue.


When the advocate mentioned the petition, the bench interrupted him and expressed displeasure that its contents were leaked.

"We are shocked to learn that before the file reaches us, the contents have been published in the media. All the grounds raised in the petition have been published in the newspaper. Further it has been reported that the matter has been listed for hearing today at 10:30 am. Why it is so?" the bench asked.

The bench said it has not seen the file about the matter which has already come in the media.

"In view of this, though it is not able to probe how the contents of the petition are leaked, we are not inclined to entertain this petition," the bench said.

The petitioner had sought a direction to the government to issue a white paper on the entire episode leading to the eviction of the yoga guru nd the alleged barbaric police action against his followers.

The petition said the government should explain the entire sequence of events, details of negotiations and the so-called deal between the government and Ramdev.

Police had cracked down on Baba Ramdev and thousands of his supporters at Ramlila Maidan on Saturday night, forcibly ending their hunger strike on corruption and black money issues.

Image: A policeman stands under an empty smoke-filled marquee after Ramdev supporters were dispersed by teargas
Photograph: Adnan Abidi/Reuters

Additional Inputs: PTI