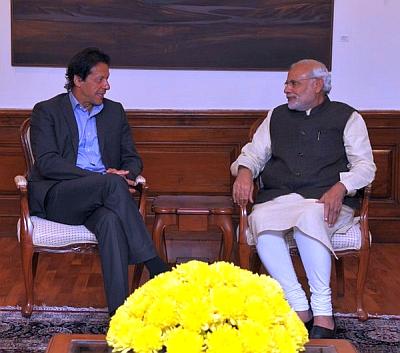 Cricketer-turned-politician Imran Khan on Friday night said he told Prime Minister Narendra Modi to expect sabotage by "vested interests", but stressed that talks between India and Pakistan should go on "uninterrupted".
The Pakistan Tehreek-e-Insaf Party chief, who met Modi in New Delhi, welcomed the resumption of talks between the two countries.
"I told Prime Minister Modi that there would be elements, who will try to derail the talks process; will try to sabotage it. But he should resolve to carry forward the talks and not stop," Khan said addressing "Agenda AajTak'.
He said the leaderships of both the countries should explain to the people dividends of peace.
Khan said he had very cordial and relaxed talks with Modi.
"I have met and spoken to so many prime ministers and leaders. But I rarely had such relaxed talks as I had with Modi," he said.
The Pakistani politician added that he was "hopeful" and "positive" about the final outcome of the Indo-Pak talks.
Stressing that Kashmir is "doable", Khan referred to the progress made on the issue between former Prime Minister Manmohan Singh and the then Pakistani President Gen (Retd) Pervez Musharraf.
India and Pakistan had on Wednesday broken the ice in bilateral ties when they decided to have a comprehensive dialogue during the visit of External Affairs Minister Sushma Swaraj to Islamabad.
Khan stressed on the economic advantage of having a peaceful state of affairs between the two countries.
He said there is a consensus among the political leadership in Pakistan that talks with India should happen.
Seeking to refute assertions that the military is the real master in Pakistan, Khan said that even the military is on board.
He ruled out any scope of a coup or martial law in his country.
Despite playing with a straight bat on various issues, Khan ducked questions on LeT founder Hafiz Saeed and underworld don Dawood Ibrahim very skilfully.
On cricketing ties between the two countries, Khan asserted that stopping cricket is not an answer to terrorism and said he has raised the issue with Prime Minister Modi while hoping for a positive response.
"Stopping cricket is not an answer to terrorism. You don't boycott a society on the basis of few sick men," Imran said, when asked about playing cricket amid terrorism from across the border.
"I supported the ban on South Africa once, but that was due to their stance on apartheid and that was a human rights violation. But other than that I believe sport should carry on. It is a matter of lifelong relationship. People to people contact is necessary to build ties. Sachin (Tendulkar) is loved in Pakistan as a Wasim (Akram) is loved in India," he added.
On his meeting with Modi, Imran said, "I told Modi that cricket should happen. Modiji smiled at that question and I couldn't decipher whether it was a 'yes' or 'no'. But I am a positive person and would take that positively".
"We are the first generation of partition children, so we had heard a lot of hate stories. And people like us were on each side of the country. But when I toured India as a cricketer, I realised that we are the same people, who listen to the same songs and have the same tastes. There is consensus in Pakistan against terror. So we should look to bridge gaps not create distances," he said.
Imran, the politician, also tried to explain the dynamics of modern society, once again stressing the need for people-to-people contact.
"Every society has two sections -- the right wing and the liberals. Look what Donald Trump had to say against Muslims. So you should not judge a society like Pakistan. When Mumbai attacks happened every Pakistani was sad.
"Seeing people go down is always a sad thing for a human being. So acts like these do not reflect the true image or though of the whole nation," he added.
Meanwhile 1983 World Cup-winning captain Kapil Dev, who was also sharing the stage with Imran, was more guarded in his stance on Indo-Pak cricket.
"Players have no problem in playing against each other, but you can't go against government policy. Boards certainly want to play, but Imran, Kapil and Sachin's views do not matter, it is the government's decision which finally counts," Kapil said.