Pakistan made a tactical error in not investing enough in L K Advani, former R&AW chief A S Dulat tells Sheela Bhatt/Rediff.com
L K Advani was an architect of the Agra summit between India and Pakistan in July 2001 and he was its destroyer, A S Dulat, former chief of the Research and Analysis Wing, India's external intelligence agency, tells Rediff.com
Kashmir: The Vajpayee Years, Dulat's book, has already created a buzz with its revelations on the Rubaiya Sayeed kidnapping in 1989 and the Indian Airlines flight IC=814hijacking to Kandahar in December 1999.
Much before the Agra summit was planned, Dulat told Rediff.com, Advani, deputy prime minister and home minister in the Atal Bihari Vajpayee government, had clandestinely met then Pakistan high commissioner Ashraf Jehangir Qazi some 20 times.
Dulat claims in his book, 'The two began to meet: Veteran television anchor Karan Thapar set up the secret meetings (20 of them, according to Karan).'
'Qazi, a friend of Karan's, needed some time to establish a rapport with the NDA (National Democratic Alliance) government,' Dulat further writes. 'Karan introduced him to George Fernandes, then defence minister, and the two would meet at Karan's place and became friends. But Qazi was keen to meet Advani so George set it up and asked Karan to drive Qazi to Advani's residence in Pandara Park late one night.'
'Karan waited outside while Qazi met Advani for 90 minutes. On the second occasion Karan was seen waiting under a street light by Sudheendra Kulkarni, then Vajpayee's speech-writer. When Kulkarni saw Karan, the latter passed it off saying he was waiting for a friend who was having dinner at the Ambassador hotel. Thereafter, Advani's daughter Pratibha suggested he wait with them (her and Mrs Advani) while the two As (Advani and Ashraf) met. Possibly, no one got a whiff of these meetings.'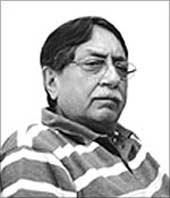 "The Advani of Delhi and the Advani of Agra were different," Dulatimage, left, told Rediff.com "He raked up the issue of Dawood Ibrahim (the fugitive gangster wanted for his involvement in the march 12, 1993 Mumbai serial blasts) at a dinner hosted for visiting Pakistan President Pervez Musharraf on the eve of the Agra summit. Musharraf was taken aback and told Advani, 'Let us at least go to Agra'."
Many scholars and experts on India-Pakistan ties strongly believe that if the Agra summit had succeeded, the destiny of both countries may have changed for the good.
Pakistan, Dulat says, made a tactical error by investing in then prime minister Vajpayee, but not enough in Advani. "Had they (the Pakistanis) kept Advani in good humour, then perhaps it would not have failed."
About Musharraf's thinking over Agra, Dulat writes, 'The villain was one of (then foreign minister) Jaswant Singh's joint secretaries, Vivek Katju.'
In his book, Dulat deliberates at length on why the Agra summit failed, and quotes his talks with high commissioner Qazi. 'Asharaf Qazi told me during a recent visit to Delhi that Advani was the architect of Agra. He said Advani was a wonderful human being so long as you pandered to his vanity; he himself had a great relationship because he was always respectful of Advani.'
Qazi has been quoted by Dulat as saying that Advani's and Musharraf's chemistry never took off.