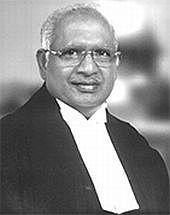 Facing criticism on the controversy surrounding former minister A Raja allegedly attempting to influence a Madras high court judge, former Chief Justice of India K G Balakrishnan on Wednesday insisted that the minister's name was not mentioned by Justice H L Gokhale in his report.
Joining issue with sitting Supreme Court judge Gokhale, who contradicted him on Tuesday, Balakrishnan issued a statement on Wednesday saying there was no question of suppressing the report of the then Chief Justice of the Madras high court (Gokhale).
The former CJI, however, did not refer to the letter written by Justice R Reghupathi, who was approached by a lawyer taking the name of Raja for securing bail to an accused in a criminal case, to Gokhale in which he had taken Raja's name.
The controversy has refused to die with Gokhale on Tuesday issuing a statement flatly contradicting Balakrishnan's claim at a press conference last week that his letter did not name Raja.

Gokhale pointed out that Reghupathi's letter was already with the CJI and in the second para of that letter, the judge had specifically mentioned Raja's name.
On Wednesday, Gokhale refused to comment on Balakrishnan's statement. "I have already made my statement," he said.
Balakrishnan said from news reports it appears that an attempt was being made to create a wedge between high institutions of judiciary and attach motives over the allegations of a Union minister having spoken to a judge to influence his judicial function, which is unfortunate.
"I am issuing this statement only with the hope that the facts will not be twisted and henceforth no motives will be attached to the judiciary," he said.
Referring to to Gokhale's statement on Tuesday, Balakrishnan contended that he had not said that the judge had sent an incorrect or false report to him regarding the alleged incident or suppressed any facts.
Image: Former Chief Jusitce of India K G Balakrishnan