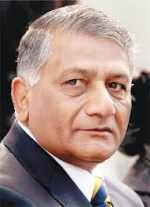 Former army chief V K Singh on Friday backed a demand of a farmers' body for rejection of the Rangarajan Committee report on freeing the sugar sector and threatened to 'gherao' the Parliament next month if it is not met.

Addressing a press conference along with V M Singh, convenor of the Rashtriya Kisan Mazdoor Sangathan, Singh said the committee's recommendation on doing away with the state advisory price and cane reservation area will adversely affect the farmers of northern states.

He said the revenue sharing formula suggested by the committee is not fair and does not provide a level-playing field to northern states, where sugar recovery is below nine per cent. But the panel suggests 70 per cent revenue be paid based on an average 10.31 per cent recovery of sugar.
Singh demanded that the Centre should not fix a fair and remunerative price and the current system of SAP and cane area reservation should continue. He said the farmers' body has no objection to other recommendations of the panel.
In a letter to Prime Minister Manmohan Singh, both V K Singh and V M Singh said, "In case the report is not rejected, cane-growers of northern states would gherao the Parliament on December 4 as a protest against the said report."
Asked whether he supports the call for a gherao of Parliament, the former army chief said, "I am endorsing a call which is in the interest of the farmers."
On joining the agitation next month, he said, "We will cross the bridge when we reach there.....Whether that situation will come or not, we will see. I am quite sure the PM is competent enough to look at the report again."
Singh further said that he will support all those who work in the interest of the country. He was responding to a query about his presence at platforms led by Anna Hazare and Ramdev endorsing different issues. He clarified that he has not yet decided on contesting elections. "Good people should enter the Parliament. But I have not thought about myself yet."