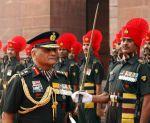 Former chief of army staff, General (retired) V K Singh on Monday called for the dissolution of Parliament, which he described as an edifice of corruption.
Calling for immediate elections, General (retired) Singh accused the present UPA-II regime of raising prices, promoting corruption, failing to bring back black money, and acquiring land from weaker sections of society by force or skullduggery.
Addressing a joint press conference with anti-corruption crusader Anna Hazare, General (retired) Singh claimed that the citizens of the country are disappointed because of the wrong policies of the government.
"Due to increasing corruption, unemployment and rising prices people have lost faith in the government."
Terming the Centre as anti-people, he said the government is favouring the corporate world.
"The government is acquiring land from the farmers and giving it to private companies."
"People and not the government have the right to natural resources like water land, minerals and forest," he added. 
 
He also said that the people of the nation don't even know the names of those involved in the collection and hoarding of black money, and called on the government to explain why this was so.
Hazare said that it was time for the people of the nation to unseat the present government, which was fanning the exploitation of the country's natural resources in a willful and indiscriminate manner.
He cited the example of huge dams coming up all over country, saying a precious commodity like water was not available for the majority of the masses in the 21st century.
Who, he said, should take the blame for this tragedy.