'New Delhi is in a perpetual dilemma. It can't do without Yediyurappa, but it doesn't want a powerful CM. It stokes the opponents within against him. The result is he has never settled down in office, even in the present tenure.'
Radhika Ramaseshan reports.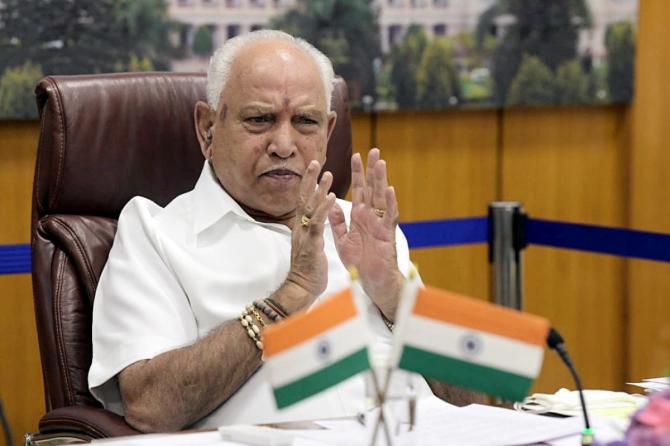 Karnataka has a unique place in the Bharatiya Janata Party's (BJP's) political and organisational system. Left to itself, the Karnataka BJP would love to detach itself from the central party apparatus and declare itself a sovereign republic. Obviously it cannot because the central BJP is too invested in Karnataka to countenance such a thought.
Karnataka is the only southern state the BJP confidently calls its own. The trouble is the New Delhi bosses are perennially at a loss as to how to handle the Karnataka leaders, specifically Chief Minister B S Yediyurappa, and the ring of dissidents around him.
"New Delhi is in a perpetual dilemma. It can't do without Yediyurappa, but it doesn't want a powerful CM. It stokes the opponents within against him. The result is he has never settled down in office, even in the present tenure," a Karnataka BJP source admitted.
The latest flashpoints compounding Yediyurappa's in-house problems came when K S Eshwarappa, his senior Cabinet colleague, shot off a missive to Governor Vajubhai Vala, accusing the CM of "interference and authoritarianism".
Eshwarappa alleged that Yediyurappa routinely disbursed several hundred crores of funds to legislators for rural works, bypassing him, although he holds the rural development and panchayati raj portfolios. He cited the example of Rs 65 crore, which was directly given to the Bengaluru urban district panchayat by G Mariswamy, the zilla panchayat head and a relative of Yediyurappa.
"Even by the standards of Karnataka's political infighting, Eshwarappa's letter was unprecedented. It's incomprehensible why he resorted to this measure because he can't even win his seat without Yediyurappa's support," a Bengaluru-based political observer said.
Eshwarappa is a legislator from Shivamogga, where Yediyurappa's writ runs large. He is from the Kuruba caste, but has little following because Congress leader and former chief minister Siddharamaiah represents the Kurubas, another backward class (OBC) of shepherds.
The Yediyurappa faction's sense was Eshwarappa was allegedly instigated by a leader from Karnataka in the central BJP organisation to square up an old rivalry. Eshwarappa got away lightly. BJP general secretary and Karnataka minder Arun Singh said the "high command" would look into the issue after the assembly bypolls.
Basanagouda Patil Yatnal, Vijayapura City MLA, is another Yediyurappa baiter who never gets tired of sniping about his leadership.
On April 6, at a function in the Veerashiva Kalyana Mantapa in Kalaburgi, Yatnal claimed Yediyurappa's downfall was "imminent", said he was "too old" to handle the state, and had reduced himself to a "rubber stamp".
Yatnal alleged Yediyurappa's sons -- B Y Vijayendra, Karnataka BJP vice-president, and B Y Raghavendra, Shimoga member of Parliament -- and Mariswamy called the shots. He called Vijayendra the "kingpin in the lobby of government transfers and postings". To date, the BJP"s central leadership never took cognizance of Yatnal's attacks.
"Yediyurappa is a senior politician who recognises his strengths and weaknesses. Those who matter in New Delhi are also aware of his merits and drawbacks. I blame the central leadership for not handling him wisely. Messages are beamed from time to time. He was asked to keep Shobha Karandlaje (Udupi-Chikkamagalur MP and a long-time political associate) out of the state and she was sidelined. By the same yardstick, the leaders should take action against Eshwarappa and Yatnal. It looks like they use such persons to keep the CM in a state of anxiety," a BJP source said.
Another senior leader ruled out the possibility of replacing Yediyurappa as CM. "This is not the time to take such a radical step," the source said, while the Bengaluru political source's assessment was "if such a move is contemplated, it will be closer to the next elections (in 2023) because even today with his dominance over the powerful Lingayat community in north and central Karnataka and some following among other communities in the south, Yediyurappa is the last man standing".
However, the counterpoint was Yediurappa's sons were "ruining his image".
Every election -- big, middling, or small -- in Karnataka becomes a test for Yediyurappa ever since he cobbled together a coalition government that was propped up by Congress and Janata Dal (Secular) turncoats. Of the 16 renegades who joined the BJP, 13 were given the ticket to contest the 15 bypolls held in 2019. All of them were elected and some were subsequently inducted into the Cabinet when the expansion was green-lighted by New Delhi a few months after the by-elections.
On April 17, three seats -- the Lok Sabha seat of Belagavi and the assembly seats of Basavakalyan and Maski -- were up for bypolls. Belagavi fell vacant after the death of central minister Suresh Angadi. Basavakalyan was held by Congress legislator B Narayan Rao, who died of Covid, while Pratap Gowda Patil, the Congressman elected from Maski in 2018, defected to the BJP and is standing for the election.
The cross-party movements created their own dynamics in the bypolls. In Belagavi, as against the state BJP"s recommendation to field a "professional", the central leaders opted for Angadi's wife, Mangala, a debutante.
"The choice smacks of double standards because for the Lok Sabha polls, New Delhi refused to put up Tejaswini Ananth Kumar from Ananth Kumar's Bangalore South seat on the grounds that they didn't want a family member. Why was the norm set aside in Belagavi? Our cadre is not happy," a BJP source said. Ananth Kumar, who passed away in 2018, represented Bangalore South in the Lok Sabha seven times and was a senior minister in the Atal Bihari Vajpayee and Narendra Modi's governments.
Tejaswini, his wife, a Karnataka BJP vice-president, had prepared herself to contest the 2019 election but the seat went to Tejaswi Surya, a rising star in the party.
While Yediyurappa reportedly had reservations over Mangala Angadi's candidacy, sources said he was aware that losing a parliamentary seat would "reflect poorly" on his leadership. Therefore, his son Vijayendra camped in Belagavi to monitor the elections.
Even if Yediyurappa delivers the three seats to the BJP, It's unlikely he will have a smooth run for the rest of his term.