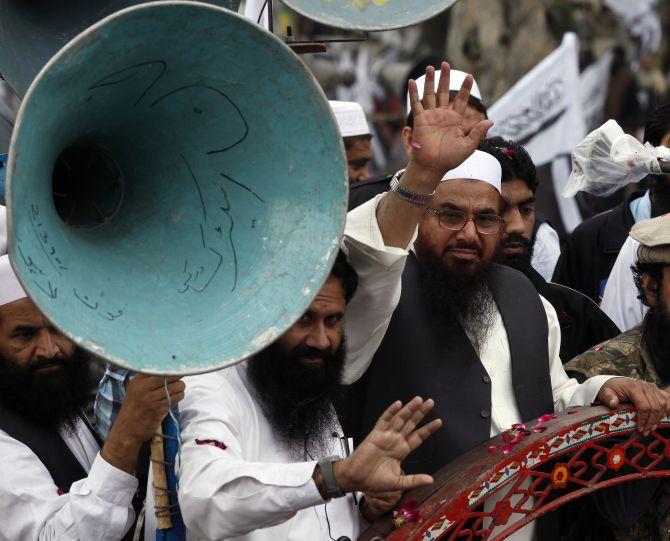 Senior European Union officials are alarmed over statements made by Pakistan Punjab's Law Minister Rana Sanaullah in which he has admitted that Pakistan is involved with terror groups like the Jamaat-ud-Dawah and the Jaish e Mohammad.
The minister made these comments in an interview to the BBC's Urdu service and they have been extensively reported across Europe and especially in Brussels which recently witnessed horrific terror attacks at the hands of Islamic terrorists.
The European Union has been cracking down on militant groups and the comments made by the law minister of Pakistan's Punjab province has both shocked officials and leaders to the point that they have started a 'a process to slam economic sanctions on Pakistan' if the linkage to terror groups, as admitted by Sanaullah, turns out to be true.
The EU has asked its representatives in Pakistan to investigate the comments made by Sanaullah questioning 'how can you prosecute a group with whom the state itself has been involved with?'
These comments, once verified and confirmed by the EU's Pakistan representatives, will trigger a process by which economic sanctions, including a ban on aviation landing rights, could be imposed on Pakistan.
In what is being seen as 'immediate and effective' action by European governments, highly placed sources in Brussels said, "Post the Brussels attacks, everything has changed in Europe. Thirty two persons were killed on March 22 by Islamic militants in Brussels in twin blasts at ZaventemInternationalAirport and another attack at Maelbeek Metro Station -- close to several EU institutions."
In this changed scenario, the EU cannot accept the comments made by the Pakistani minister, and 'to begin with, it will ban landing rights for Pakistani Airlines to the European Union'.
EU sources who are involved with coordinating the security crackdown and arrests in Belgium, France and Germany said that these comments of state support to proscribed terror groups like the JuD and the JeM by a senior Pakistani minister are 'nothing short of self admission of guilt and need to be taken at face value'.
Sources added, "These are not media reports which we can brush aside, but comments made by an individual, who is perhaps involved with these groups and we need to take them very seriously."
The EU is one of Pakistan's leading trading blocs and, in the past, has been liberal in its outlook towards Pakistan's support to terror groups.
However, post the Brussels attacks of March 22, the situation has completely changed.
This comment by Sanaullah is the first official comment linking Pakistan to terror groups and within hours of the comment the EU has galvanised itself into action to start the process of 'determination of veracity of these official comments which will trigger economic and aviation sanctions on Pakistan'.
Officials also said that the admission that the Pakistani state was involved with terror groups will bring to sharp focus the legitimacy of Pakistani origin migrants in European countries. They will come in for closer scrutiny during travels and when they apply for naturalisation and visas.