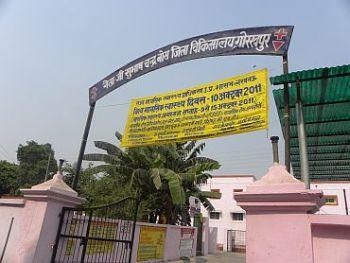 The encephalitis menace continues unabated in eastern Uttar Pradesh as four more children succumbed to the disease at BRD Medical College Hospital in Gorakhpur, bringing the toll in the disease to 289.
"Four children have succumbed to encephalitis in last 48 hours," the sources in the office of additional director (health) said in Gorakhopur on Tuesday.
One child each from Maharajganj, Kushinagar, Siddharthanagar and Sant Kabirnagar died, the sources said.
28 persons suffering from the disease were admitted to BRD-MCH on Monday, they said, adding that 160 patients are being treated at BRD-MCH and different government hospitals of the region.
This year, 1,436 encephalitis patients have been admitted to hospitals, of which 289 died, they said.
This toll also includes 33 patients from Bihar and one from Nepal, who succumbed at BRD-MCH here, the sources said.
Image: BRD Medical College Hospital in Gorakhpur
Photograph: Nishi Tiwari/Rediff.com