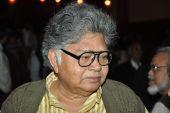 Eminent litterateur and Sahitya Akademi President Sunil Gangopadhyay died at his South Kolkata residence in the early hours on Tuesday following a massive heart attack. He was 78.
Gangopadhyay's body will be kept in a mortuary till his son arrives from Boston for performing the last rites, family sources said.
A prolific writer and winner of several awards, Gangopadhyay was the founder editor of 'Krittibas', a seminal poetry magazine that became a platform for a new generation of poets experimenting with many new forms.
Author of over 200 books Gangopadhyay excelled in different genres, but declared poetry to be his "first love". His Neera series of poems are popular.
Gangopadhyay also excelled in short story, novels, travelogues and children's fiction.
He had won the Sahitya Akademi Award (1985), Ananda Puraskar (1989) and the Hindu Literary Prize (2011).
After serving five years as the vice president, he was elected the president of the Sahitya Akademi on February 20, 2008.
He used the pen-names of Nil Lohit, Sanatan Pathak and Nil Upadhyay.
Gangopadhyay is survived by wife and son.


On hearing the news of Gangopadhyay's death, several writers, including Nabaneeta Dev Sen, rushed to his house in the morning.
Eminent writers, including Shirshendu Mukhopadhyay, Samaresh Majumdar, Nirendranath Chakrabarty and Abul Bashar mourned his death.
Condoling his death, Shirshendu Mukhopadhyay said, "It will be extremely difficult to fill the vacuum in Bengali literature after his death as Sunil had heralded a new style in Bengali literature".
"Bengali literature has lost its guardian", writer Samaresh Majumdar said.
Recalling his long association with Gangopadhyay, veteran poet Nirendranath Chakrabarty said though he was senior to Sunil by ten years in age, he had high respect for his style of writing.
"I saw a sapling when Sunil started writing and keenly observed how it grew into a big tree with thousands of branches", Chakrabarty observed.

Abul Bashar said Gangopadhyay was inimitable in all respects. "We had entered the world of poetry with his guidance".