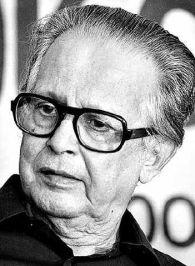 Eminent cartoonist R K Laxman, who immortalised the hapless 'Common Man' with his devastating swipes at politicians but without malice, died here today at a private hospital at the age of 94 after suffering multi-organ failure.
"Laxman passed away at 6.50 PM," Dr Sameer Jog of Deenanath Mangeshkar Hospital, said.
Creator of ubiquitous mute spectator 'Common Man', Laxman was admitted to the hospital on January 17 for urinary infection. He suffered multi-organ failure and was put on ventilator.
Laxman, brother of late novelist R K Narayan, is survived by writer wife Kamala, retired journalist son Srinivas and daughter-in-law Usha.
His legendary spell on the Indian newspaper reader was cast after joining the Times Of India. His front page pocket cartoon 'You said it' started in 1951, unleashing his iconic "common man", a silent witness to the shenanigans of politicians who were supposed to realise his dreams, hopes and aspirations but betrayed him on most occasions.
His association with the TOI continued through the six decades even as he got back to work after recovering from a paralytic stroke in 2003 that incapacitated his left side.
A Padma Vibhushan, Laxman also won the Magsaysay award in 1984 for journalism, literature and creative communication arts. Condoling his demise, noted cartoonists described him as outstanding, towering figure who always had his finger on the pulse of the nation.
"India will miss you R K Laxman. We are grateful top you for adding the much needed humour in our lives and always bringing smiles on our faces," Prime Minister Narendra Modi tweeted.
According to the doctors, he had been bed-ridden for many months, needed caregiver support for his routine activities and suffered from diabetes, hypertension and diabetic nephropathy.
He was under close observation of team of intensivists in Deenanath Mangeshkar Hospital's ICU for the last nine days. There were ups and downs in his condition, but it started deteriorating since last evening, and he suffered a cardiac arrest on Monday evening.
The funeral would be conducted on Tuesday morning, Srinivas told PTI. Rasipuram Krishnaswamy Laxman, son of a school teacher, rose to become India's best known political cartoonist while his ubiquitous 'common man' became an icon in himself.
As the news of his demise broke, his admirers were seen making a beeline at the the statue of 'Common Man' in Worli in Mumbai. Born in Mysore on October 24, 1921, Laxman was one of the seven siblings, including elder brother and eminent novelist, the late R K Narayan.
Ironically enough, the young Laxman had to face rejection from the Mumbai's J J School of Arts when he applied there for admission, and subsequently graduated with a bachelor of arts degree from University of Mysore even as he continued with freelancing and contributed cartoons to Blitz, Swarajya.
While at college, Laxman started illustrating R K Narayan's short stories in The Hindu and drawing political cartoons for local newspapers. He took up his first full time job as a political cartoonist at Mumbai's Free Press Journal.
Among other honours bestowed on him are B D Goenka award -- Indian Express, Durga Ratan Gold medal -- Hindustan Times and the Padma Bhushan.
For the last several years he had settled down in Pune. "He was the original God of cartooning," cartoonist Ajit Ninan said about Laxman, adding that all the metaphors that emanated from his hand and mind was unmatchable.
Another noted cartoonist Sudhar Dar said Laxman always had his finger on the pulse of the nation. Cartoonist Hemant Morparia said, "He was a towering figure. He outlived all his contemporaries. I assume his cartoons will in fact outlive him for a very long time."
Sudhir Tailang, another member of the fraternity, said "Laxman is an institution" who created "respect for the job of cartoonists".
Social networking website Twitter was abuzz with tributes to Laxman. "India loses her preeminent Common Man. RIP #RKLaxman," tweeted former Jammu and Kashmir Chief Minister Omar Abdullah. "The common man just lost its first citizen. RIP R.K Laxman," tweeted actor and film maker Farhan Akhtar.

West Bengal CM Mamata Banerjee tweeted, "Saddened to hear that the legendary cartoonist RK Laxman passed away a short while ago. May his soul rest in peace." Film critic Raja Sen tweeted: "Anything but common, RK Laxman. Draw In Peace."

Barkha Dutt tweeted: In a way ironic but fitting that one of the most incisive chroniclers of the Indian Republic dies on Republic Day. Go gently, RK Laxman.
Also read: