Mayawati, whose party has tied up with Shiromani Akali Dal for the upcoming Punjab assembly polls, also said whatever the "casteist parties" are giving to Dalits and OBCs, whether it is in Punjab, Uttar Pradesh or other states, it is for their votes and to serve selfish motives and not for ameliorating their lot.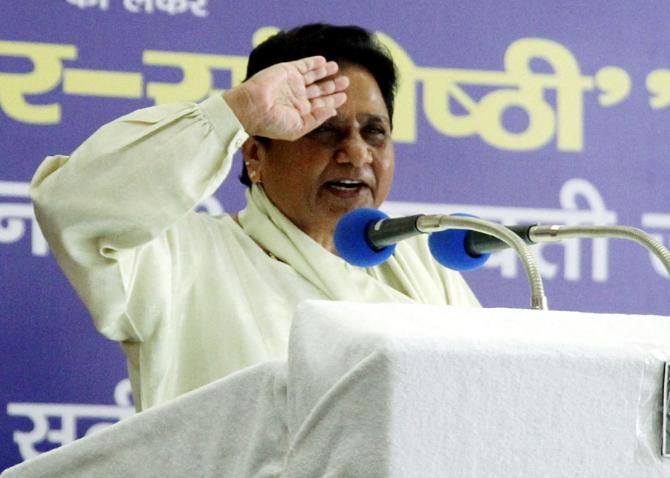 "Making a person belonging to Dalit caste as the chief minister of Punjab is nothing but an election stunt. I have come to know through the media today that assembly elections in Punjab will be fought under a non-Dalit leader and not under Channi," Mayawati told newspersons in Lucknow.
Attacking the Congress, she said, "It still does not have faith in Dalits. Dalits need to be very alert to their double standards. I have full faith that Dalits of Punjab will not fall for this stunt."
The former Uttar Pradesh chief minister also claimed the Congress is rattled by the SAD-BSP alliance for the Punjab Assembly polls.
The BSP and SAD had in June joined hands for the 2022 Punjab Assembly elections. SAD chief Sukhbir Singh Badal had announced that if their alliance wins, the deputy chief minister would be from the Dalit community.
"The reality is that Congress and other political parties think of Dalits only in times of crisis," Mayawati charged.
Referring to Dr B R Ambedkar, the BSP chief said, "If the Congress had any other capable person, it would not have included Ambedkar in the exercise of framing the Constitution."
"The legal rights which Dalits, adivasis and OBCs have got would not have been possible then. Even the religious minorities, especially the Muslims, have got whatever security they have because Ambedkar framed the Indian Constitution not based on any caste or religion but secularism," she stressed.
Drawing a parallel with Uttar Pradesh which also goes to polls early next year, Mayawati targeted the BJP, alleging its "drama" for the OBCs is just for their vote.
"The BJP has acquired a newfound love for the OBCs but it is just an eyewash. Had there been any truth and honesty in their concern for the OBCs, the central and BJP led state governments filled their backlog in government jobs alongwith SC/STs.
"They would also accept the demand for a caste-based census. BJP and other casteist parties are panicking (over census) just as their people had launched a violent protest at the time when Mandal Commission recommendations were implemented," she said.
"Like the Dalits, OBCs will also not fall for Congress, BJP or any other casteist party as they know that whatever they have got is because of Ambedkar's efforts," Mayawati said.
The BSP president said that she has full faith that Dalits or the backwards in UP, Punjab or any other state, will not fall for such gimmicks.
The Congress' decision to name Channi, who hails from Rupnagar district in Punjab's Malwa belt, assumes significance as almost 32 percent population of the state comprises Dalits.
© Copyright 2021 PTI. All rights reserved. Republication or redistribution of PTI content, including by framing or similar means, is expressly prohibited without the prior written consent.