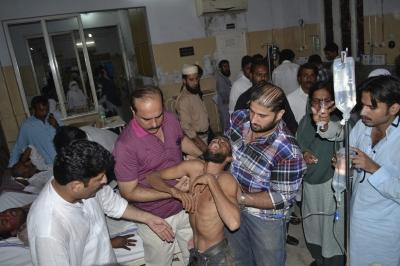 At least eight people, including a child, were killed and 40 injured in a stampede at a public rally by opposition leader Imran Khan in central Pakistan on Friday.
The incident occurred in Multan city, 350 kilometers from Lahore, after Pakistan Tahreek-i-Insaf party chairman addressed a crowd to press his demand for the resignation of Prime Minister Nawaz Sharif over alleged rigging in last year's elections.
When the cricketer-turned-politician ended his speech, hundreds and thousands of people gathered at the venue left from the five gates. "One of the gates remained half open that caused stampede," District Coordination Officer (Multan) Zahid Gondal told reporters.
He said eight people, including a child, died in the stampede.
PTI Vice-Chairman Shah Mahmood Qureshi held the district administration responsible for the tragic incident. "The district administration switched off the lights when Imran ended his speech. The administration also closed the three gates of the venue forcing the people to use the two remaining gates that resulted in stampede," he said.
"This incident has been designed by the government to discourage the people from attending Imran Khan's future rallies. The government cannot listen to 'Go Nawaz Go' slogans in such gatherings," he said.
Director Emergency Nishter Hospital Dr Pervaiz said, "Five of the 40 injured are in critical condition. All deaths have been caused by suffocation."
Khan blamed the local administration for the incident. "Investigation should be launched to fix the responsibility. The Multan deputy commissioner should be taken to task at once for not cooperating with the PTI over the rally arrangement," he said.
Image: A supporter of Imran Khan, the chairman of the Pakistan Tehreek-e-Insaf political party, reacts as he is helped by men at a hospital, after he was wounded in stampede during what has been dubbed a "freedom march" in Multan.Photograph: K Chaudhry/Reuters