Eight fugitives from Kerala, including three wanted terrorists and a woman, are still at large even after years of issuance of red corner notices (RCN) against them by the Interpol.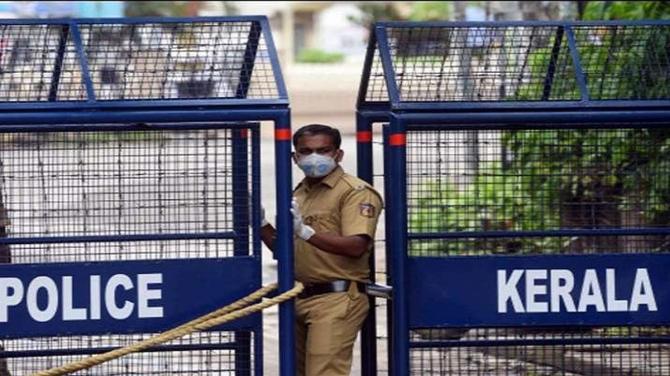 The list also includes two notorious fugitives -- Sukumara Kurup, never nabbed in connection with a murder and Dr Edadi Omana -- who had given the slip to the investigating agencies, and have remained untraceable for several years.
While many of these red corner alerts were issued several years ago, some even decades ago, the international police agencies are yet to nab the accused.
Once a Red Corner notice is issued by Interpol, the details of the criminals at large are shared with the immigration officers in airports across the world, making it impossible for one to travel from one country to the other.
An Interpol division of the CBI based in Delhi follows up the red corner notices issued from the country.
"This division writes to other countries to share the information once the accused' whereabouts are traced by our investigation agencies. However, many countries do not reply or send back the requests with various queries," a CBI official on request of anonymity told PTI.
He said there are several conditions with regard to exchange of information about fugitives.
"So technically, only the paperwork remains and any tangible information is hard to get by from foreign countries," the officer added.
Earlier in Parliament, the government had said the red corner notice is issued by Interpol and is meant to facilitate quick location and arrest of a person abroad and providing the information to the national agency / authority on whose request the Notice was issued.
The notice is not a pre-requisite and may not necessarily lead to the extradition of a fugitive offender for which there is a separate legal process to be followed.
The local police are also in possession of these records and are supposed to track down these criminals.
The Interpol Red Corner notice list has the names from Kerala including that of Mohammed Haneefa (45) in Malappuram, accused of rioting with dangerous weapons and attempts to murder; Sudhin Kumar Sreedharan (56) from Thiruvananthapuram, a murder accused, Sukumaran Sivarama Kurup (74) from Chengannur, Alappuzha, accused of murder and destruction of evidence and Cheriyaveettil Saddique (44) from Kasaragod. He is accused of criminal conspiracy and cheating.
Others named in the list are terror- accused Kochupeedikayil Sabir (42) from Kannur and Chanamparambil Mohammed Bashir (61), Kolanjana Mohammed Rafeeq (34), from Kayyur, Kasaragod, accused of murder and Dr Edadi Omana (69), from Payyannur, Kannur accused of abduction, murder, and destruction of evidence.
One of Kerala's most infamous fugitives, Sukumara Kurup has been absconding since 1984.
He was charged with the murder of Chacko in order to fake his own death to claim an insurance sum of Rs 8 lakh. Kurup committed the offence with the help of his co-brother, his driver and another friend.
Chacko was abducted, tortured, poisoned, and strangled to death before his body was burnt inside Kurup's car at Mavelikkara.
Police managed to arrest the accomplices of Kurup but could never trace him.
The case was closed in 1996, after searching for him in vain for 12 years, with a note suggesting that Kurup would be living in a foreign country in a fake identity.
Some officers say Kurup was suffering from a serious cardiac problem and could have died by now. But so far no country has ever contacted CBI, the Interpol representative agency from India, with details of Kurup even decades after issuance of the Red Corner notice by Interpol.
Dr Omana is also nearing the status of Kurup as she has been absconding for the last 16 years after she allegedly killed her estranged lover P Muraleedharan.
She had poisoned Muraleedharan at her residence in Payyannur in 1996.
She then chopped his body into several pieces, stuffed them into a suitcase, and carried it all the way to Udhagamandalam (Ooty) in Tamil Nadu to dispose them off.
She had chopped the victim's body with a surgeon's precision and stuffed the body parts in small packets. She then stuffed the suitcase in the boot of her car and drove to the hill station.
Her idea was to dump each packet at different locations in Ooty. However, police got a whiff and the woman was arrested.
She was lodged in the Central Prison in Chennai (Madras then) for some days. She then managed to secure bail and escaped after that.
Police believed she escaped to a foreign country and a red corner notice was issued. But no information regarding her came to the police after that.
Three of the terror accused in the list are also dangerous fugitives, who were part of some inter-state terror operations.
Chanamparambil Mohammed Bashir is accused in a terror case where his co-accused are similar extremists from Hyderabad.
One of his co-accused Taher Ansari (71), a resident of Hyderabad, is also absconding for several years.