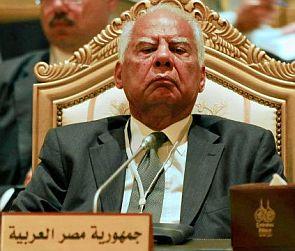 Egypt's military-backed interim government led by Prime Minister Hazem El-Beblawi on Monday resigned, in a surprise move just weeks before presidential polls in which the country's powerful army chief is expected to run.
Beblawi announced on state TV that his cabinet has submitted its resignation to Interim President Adly Mansour.

"The cabinet decided in light of the current situation that the country is going through... to submit its resignation to Adly Mansour, the interim president," the cabinet said in a statement.
Beblawi gave no particular reason for the Cabinet's resignation in his address, but it comes amid a series of strikes, including one by public sector workers and rubbish collectors.
The decision was made after the cabinet meeting attended by armed forces chief and Defence Minister Field Marshal Abdul Fattah al-Sisi.
Interim President Adly Mansour is expected to accept the cabinet's resignation and commission Ibrahim Mahleb, minister of housing in Beblawi's government, to form the new cabinet, Ahram Online quoted an official source as saying.

The move comes ahead of presidential polls in mid-April and Sisi is widely tipped to win the poll if he stands.
Sisi, who ousted Islamist President Mohammed Morsi in July, has to resign from the government and the army before he can officially announce his presidential bid.
After a 15-minute meeting with the cabinet, Beblawi said "reform cannot take place through the government alone" and all Egyptians should strive to achieve the change they aspire for.
Beblawi, in his televised address, praised his government's performance.
"For the past six to seven months, the government assumed its responsibilities and duties... the government did not spare any efforts to get Egypt out of a bad phase," he said.

"This is not the time for personal interests. The nation is above everybody."

Beblawi's government was subjected to criticism over the past few weeks by all colours of the political spectrum in Egypt, particularly after the exclusion of crucial groups of public sector workers from qualifying for a newly passed minimum wage law leading to strikes in a number of crucial sectors of the economy.
A prominent economist and politician, Beblawi was named prime minister last July following the ouster of Morsi and his prime minister Hisham Qandil's government amid massive protests.
© Copyright 2020 PTI. All rights reserved. Republication or redistribution of PTI content, including by framing or similar means, is expressly prohibited without the prior written consent.