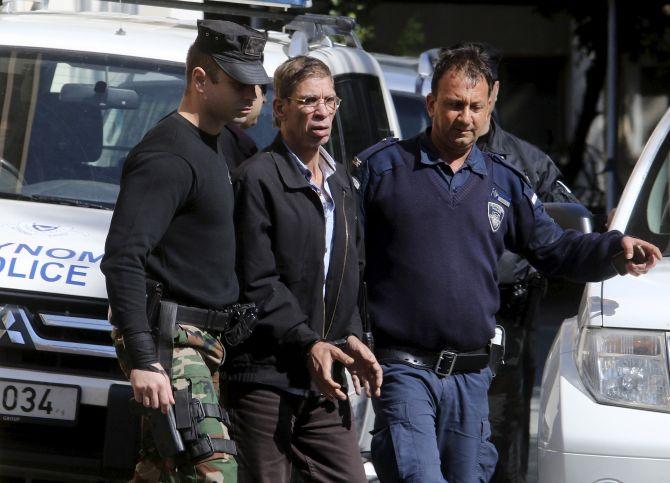 Seif al-Din Mohamed Mostafa, centre, who was arrested after he hijacked an EgyptAir flight, which was forced to land in Cyprus on Tuesday, is transferred by Cypriot police as they leave a court in the city of Larnaca, Cyprus on Wednesday. Photograph: Yiannis Kourtoglou/Reuters

The 58-year-old Egyptian who is accused of hijacking an EgyptAir plane and forcing it to land in Cyprus was on Wednesday remanded to police custody for eight days.
Police told the court in Larnaca, Cyprus that Seif al-Din Mohamed Mostafa faces possible charges of hijacking, kidnapping people with the aim of taking them to an unknown destination, reckless and threatening behaviour and offences that breach the anti-terror law.
Mostafa did not speak in the court, but flashed a victory sign as he left in a police car.
Mostafa, who has a Cypriot ex-wife, will not face any formal charges until a later hearing and only at that point will he be expected to enter a plea.
Cyprus authorities have described Mostafa as 'psychologically unstable' and said the case was not 'terrorism-related'.
He is accused of forcing the plane to divert to Larnaca airport on the island's south coast on Tuesday by threatening to detonate an explosives belt that turned out to be fake.
Authorities allege that his motives were personal and related to his Cypriot ex-wife with whom he is reported to have had children.