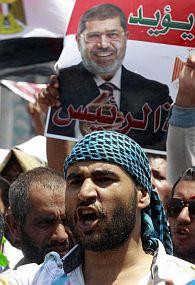 Thousands of angry supporters of deposed Egyptian President Mohammed Morsi, chanting slogans like "down with military rule", today took to the streets after Friday prayers demanding his reinstatement, as soldiers opened fire to chase them away, killing at least three people.
The incident took place as Islamist members of Morsi's Muslim Brotherhood marched towards the Republican Guards Club in Cairo, where the Arab nation's first democratically elected president has been put "under guard" since Wednesday night.
Despite warning from soldiers not to cross the road, the crowd got angrier and tried to storm the Republican Guard headquarters, prompting the security forces to open fire -- first into the air, then at the demonstrators.

The demonstrators, who held up images of Morsi, denounced the statement from the General Command of the Armed Forces, chanting: "Down with Sissi", "Down with military rule," and "Islamic."
At the iconic Tahrir Square, supporters of the new army-backed interim government held their own demonstration.
Earlier, the powerful army has appealed for conciliation and warned against revenge attacks as violent clashes continued overnight.
After the armed forces removed 61-year-old Morsi on Wednesday night, at least 14 people have been killed and over 500 injured in clashes across the country, according to figures issued by the Health Ministry.

Thousands of demonstrators have marched after the 'National Alliance in Support of Electoral Legitimacy' asked its supporters "to mobilise in peaceful mass marches in all liberty squares and streets of Egypt, to be started from all mosques, after Friday prayers, to reject the heinous coup against popular will."
The coalition "affirmed its full and categorical rejection of the military coup -- against the President, the Constitution and democratic legitimacy -- and all consequent actions and effects", the statement said.
Meanwhile, the army called for reconciliations, saying it will not allow acts of revenge between rival factions.
In a statement, the armed forces warned against "falling into an endless circle of revenge," saying it was keen to avoid any extraordinary or arbitrary measures against any faction or political movement, Al-Arabia reported.
"Peaceful protest and freedom of expression are rights guaranteed to everyone," according to the army's statement.
However, it warned that "excessive use of this right without reason could carry some negative implications, including blocking roads, delaying public benefits and destroying institutions, posing a threat to social peace, the national interest and damaging the security and economy."

Soon after Morsi's ouster, a number of Islamist-linked television stations were taken off air and top Brotherhood leaders, including its supreme leader Mohammed Badie and former chairman Mahdi Aakef, were arrested.

Police are seeking another 300 members of the Muslim Brotherhood, the state-run newspaper Al-Ahram reported.
Meanwhile, newly sworn-in interim president Adly Mansour made an attempt to heal the relationship with the Brotherhood, saying "the Muslim Brotherhood are part of people and are invited to participate in building the nation as nobody will be excluded."
67-year-old Mansour has also issued a decree appointing Judge Aly Aoud Saleh as his constitutional advisor and Judge Mostafa Hegazy as his political advisor.
Besides, Mansour, the top judge of Egypt's High Constitutional Court, has pledged to hold elections based on "the genuine people's will".