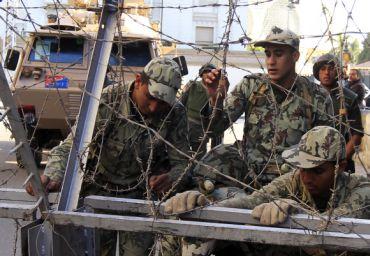 Egyptian army on Thursday deployed tanks outside the presidential palace and ordered rampaging mobs to clear the area after overnight clashes between supporters and opponents of Islamist President Mohamed Mursi killed at least seven people and left nearly 700 injured.
Tanks and armoured cars were positioned outside the presidential palace as hundreds of Mursi's supporters chanted slogans in his favour, amid growing unrest over a controversial draft constitution.
The state news agency said the military deployment on
Thursday around the palace was to "secure" the building.
The Egyptian army then began to clear the area around the presidential palace ordering demonstrators and media organisations to vacate the place.
It followed violent overnight clashes between supporters and opponents of President Mursi that left seven people dead and 644 injured, media reports said.
Violence continued today as Mursi's opponents attacked the headquarters of the Freedom and Justice Party, the Muslim Brotherhood's political arm, in several cities.
However, there was no word on it from the presidency which said Mursi is likely to deliver a speech shortly.
Also today, Egypt's top Islamic body called on Mursi to suspend a decree in which he claimed sweeping powers and demanded an unconditional dialogue between the president and his opponents.
The Al-Azhar institution said, Mursi should "suspend the latest decree and stop using it," in a statement.
By Thursday morning, the Republican Guard had deployed at least 10 tanks and troops outside the palace.
Supporters of Mursi responded to a call to rally outside the presidential palace Wednesday, while the mainly secular opponents of the president were already staging a sit-in protest there.
Protesters fired guns and threw firebombs and rocks at each other as stand-off over Mursi's expanded powers continued.
Riot police were finally sent in to control the situation, but clashes still took place in side streets near the presidential compound Wednesday.
Image: Members of the Republican Guard move barbed wire barricades to block off a road leading to the presidential palace in Cairo
Photograph: Mohamed Abd El Ghany/Reuters