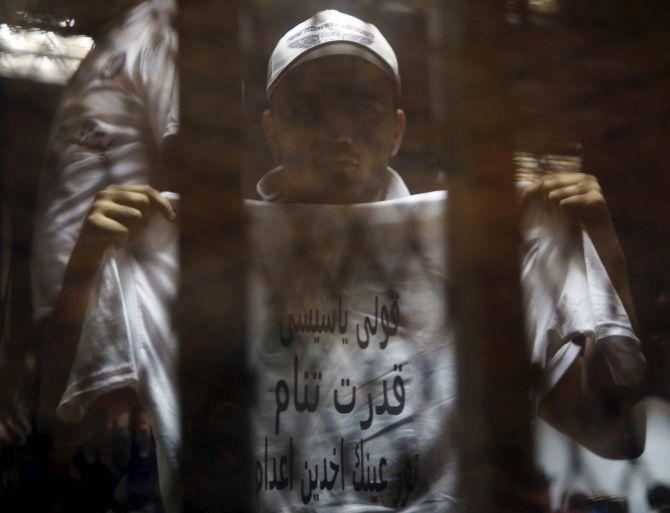 A defendant accused of involvement in the Port Said soccer stadium violence in 2012, holds a t-shirt reading "Tell me, Sisi, are you able to sleep and is there light in your eyes with my execution", inside a cage in a courtroom at the Police Academy, on the outskirts of Cairo. Photograph: Amr Abdallah Dalsh/Reuters
An Egyptian court on Tuesday upheld the death sentences against 11 people for their involvement in the country's worst-ever soccer violence that killed 74 fans after a top-league game in the coastal Port Said city.
The violence followed a match between long-time rivals of Port Said's al-Masry team and visiting Cairo team al-Ahly, and took place on February 1, 2012.
The riots, during the tense and highly politicised period of military rule following the 2011 January revolution which brought an end to three decades of rule by dictator Hosni Mubarak, had triggered unrest in capital Cairo, where another 16 people died. During the violence, the then-President Mohammed Morsi declared a state of emergency in the city.
Tuesday's sentencing came as part of a retrial of 73 defendants, including 9 police personnel and three officials from el-Masry football team, in the case in which another 40 defendants were sentenced to up to 15 years in prison.
One of the 11 men was sentenced in absentia. Tuesday's sentences can still be appealed before Egypt's cassation court.
The sentences were given in April and were sent to the Grand Mufti, who according to Egyptian law must review all death sentences, although his decision is not binding.
Seventy-four people were killed and more than 500 were injured after thousands of El Masry fans violently attacked El Ahly fans, following a 3–1 victory by El Masry.
The police were accused of letting fans from the local team al-Masry attack supporters of Cairo club al-Ahly, who had been vocal in supporting the overthrow of Mubarak. It was Egypt's worst soccer disaster and among the world's deadliest.
In 2013, the Port Said criminal court sentenced 21 defendants to death; 28 others were acquitted. The acquittal was appealed and the court retried all the defendants.