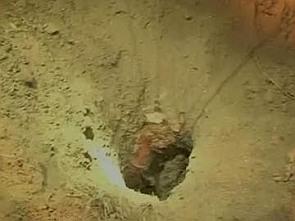 The round-the-clock operation to rescue a 4-year-old girl who is stuck inside a borewell at Nagathana village near here continued for the third day on Thursday, with rescuers still struggling to reach her.
A horizontal tunnel was now being dug in efforts to insert iron shafts under the spot where Akshata Hanumanth Patil is trapped to prevent her from sliding down further but the rocky portions were impeding the work, officials said.
The girl is believed to be stuck at a depth of about 30 feet of the 300 feet borewell, according to rescuers, as teams from National Disaster Response Force, fire brigade and police continued their operation.
A robot expert from Tamil Nadu, Manikandan made three attempts to reach the girl with his machine since he was brought in a helicopter here yesterday afternoon but to no avail.

Akshata fell into the open borewell in a farm while she was following her father, a labourer, on Tuesday evening.

Her distraught parents Hanumanth Maipatil and Savithri, both agricultural labourers, watched the operation helplessly as villagers in and surrounding areas prayed for their daughter.
Oxygen was being pumped into the borewell while a team of doctors waited at the spot, officials said.
Bijapur district in-charge minister M B Patil and senior officials are camping at the site, overseeing the massive rescue effort.