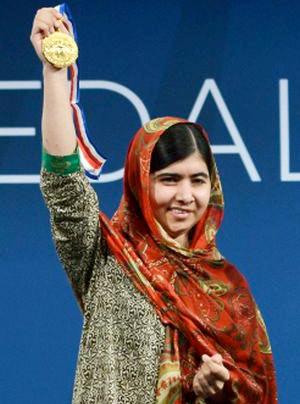 Pakistani teenager and Nobel Peace Prize winner Malala Yousafzai has been conferred with the Liberty Medal, and the youngest recipient of the American award said this will encourage her to continue her campaign for child rights in countries including India.
Malala has pledged to donate the $100,000 (Rs 61 lakh) award money towards education in Pakistan. "We cannot become a generation lost. I ask all countries all around the world: Let us say no to wars. Let us say no to conflicts," she said, adding that she is speaking up for children caught in crises in such places as India, Syria, Nigeria and Gaza.
Previous recipients of this award include Hillary Clinton, Tony Blair, George H W Bush, Bill Clinton, Kofi Annan and Hamid Karzai.
Malala, 17, called for spending money on books, not guns in her speech. Addressing a 1,400-strong audience at the National Constitution Centre in Philadelphia, she said history does not descend from the sky; it is we who make history. "Together we are stronger than fear, oppression, and terrorism," she added.
Established in 1988 to commemorate the bicentennial of the US Constitution, the annual Liberty Medal, is given to honour "men and women of courage and conviction who strive to secure the blessings of liberty to people around the globe".
"I'm honoured to receive this medal. It encourages me to continue my campaign for education and to fight for the rights of every child," Malala said.
In her speech, Malala said the Taliban committed a big mistake when they attacked her, because the attempt on her life only made her stronger. "I speak for those without a voice, I speak for girls who have been persecuted. Why should I not speak? It is our duty to our country. I needed to speak for our right to go to school," she said.
"Education is the best weapon against poverty, ignorance and terrorism," she added.
Malala came to international attention at the age of 11 by writing for the BBC about life under the Taliban in her native Pakistan. Using the pen name Gul Makai, she often spoke about her family's fight for girls' education in her community.
The youngest Nobel Laureate ever, Malala was awarded the Nobel peace prize with Kailash Satyarthi, Indian children's rights activist, for "their struggle against the suppression of children and young people and for the right of all children to education."
Image: Malala with her Liberty Medal at the prize ceremony. Photograph: Getty Images