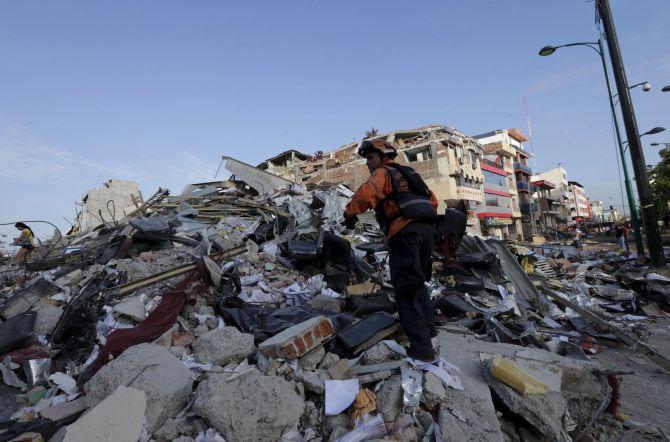 IMAGE: Rescue team members and firefighters search for victims at a collapsed building on Monday after an earthquake struck off the Pacific coast, in Portoviejo, Ecuador. Photograph: Henry Romero/Reuters
Rescue and relief operations in Ecuador continued in search of survivors two days after 7.8-magnitude quake devastated a tourist region of the South American country. On Tuesday, the government raised the death toll to 480.
Desperate families grabbed chunks of debris with their bare hands as they joined in the search for their loved ones along with stretched firefighting teams and mechanical diggers.
On Monday, at least five survivors -- including a girl -- were pulled out from the rubble.
Authorities reported that one person was found alive under the rubble of the El Gato hotel in Portoviejo.
Local media reported that a girl was rescued from the ruins of a building after being trapped for 20 hours in the hard-hit town of Pedernales, at the centre of the quake.
Firefighters tweeted that they pulled out three other survivors from rubble in the town of Manta.
Updating the death toll from 350, the country's Security Ministry said, 'We are counting 480 people dead at present.'
More than 2,000 people are believed to have been injured by the quake.
IMAGE: Men ride a motorcycle past damaged buildings in Pedernales, Ecuador. Photograph: Guillermo Granja/Reuters
Foreign countries and organisations dispatched rescue teams to help search and medical units treat the injured, saying tens of thousands would need aid.
Along the Pacific coast, in the towns of Pedernales, Manta and Portoviejo, the stench of rotting bodies filled the tropical air among heaps of rubble and twisted metal. Rescuers with sniffer dogs roamed the wreckage.
"My husband is under there," said a 24-year-old survivor, tearing at a mound of debris that used to be a hotel in Manta. Her 25-year-old spouse, the father of their two young children, worked at the property as a painter.
In Pedernales, Mayor Gabriel Alcivar estimated there were hundreds of dead buried under the rubble of collapsed hotels.
Soldiers patrolled the beach town, and the Red Cross and the army opened a field hospital and a makeshift morgue at the local stadium.
Foreigners killed by the quake included seven Colombians, two Canadians and at least one United States national, officials said. Three Cuban doctors died in a collapsed building in Pedernales, Havana's Ministry of Public Health said on Monday.
Although Ecuador frequently suffers seismic shudders because of its position on the Pacific Rim's 'Ring of Fire', Sunday's quake -- which lasted a full minute -- was the worst in nearly 40 years.